Blog/Corruption
Posted Jul 27, 2018 by Martin Armstrong
QUESTION: Mr. Armstrong, I seem to recall that in your case HSBC had to plead guilty and paid back only $600 million because the difference in the notes in yen was your profit. Putin specifically mentioned that the $400 was stolen. That was you he was talking about. Then the $10 billion they wanted you to invest in Hermitage Capital was what started your case thanks to a mistake by the Japanese government. Then after watching the Magnitsky movie, it seems like they killed everyone who had knowledge of what was going on as in your case everyone around you was killed. Maybe you survived because you were in contempt of court? You do realize that there were less than 50 views of that movie until you posted it. It has now passed 7,000 views.
PKL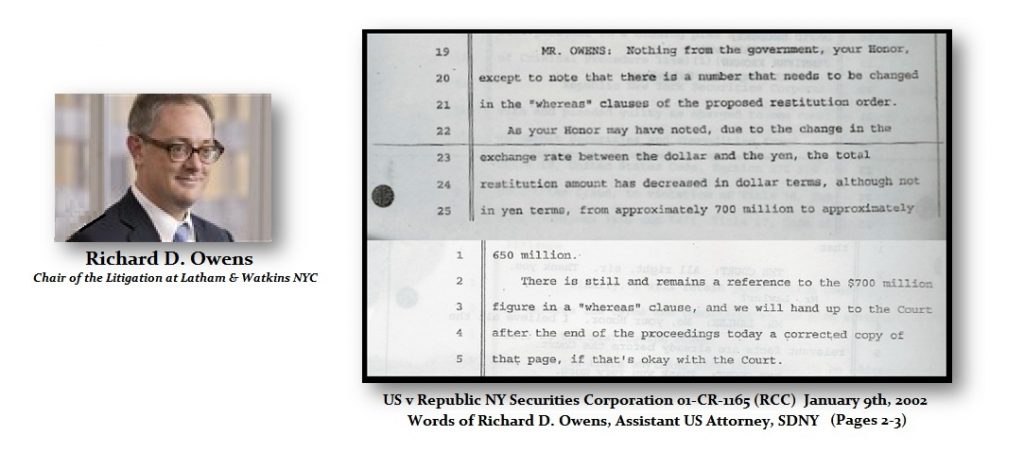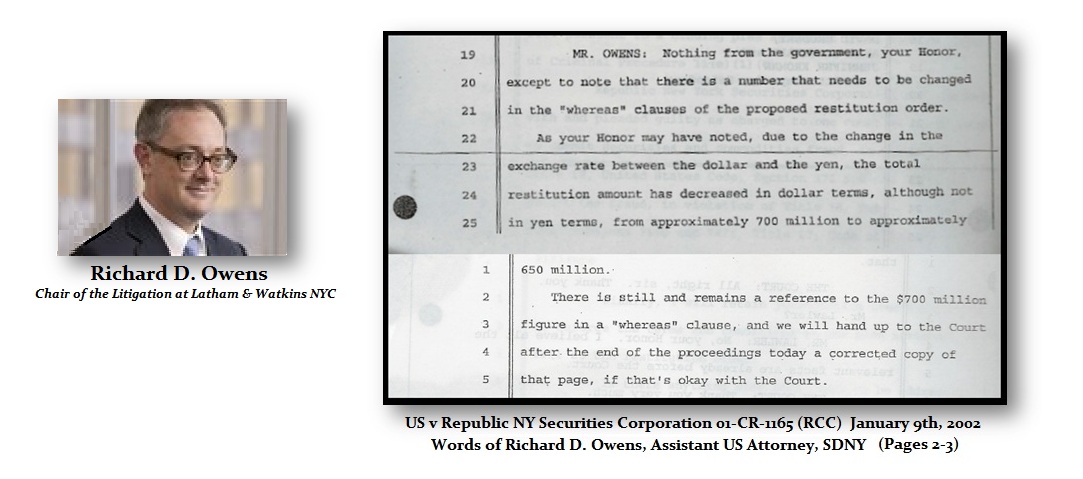 ANSWER: Yes, the $400 million was the difference. I am not certain it is the same $400 million. Nevertheless, it is amazing how the press does not even look at the fact that how did HSBC plead guilty and only had to pay $600 million on an alleged $1 billion case? It is just amazing how the press will NEVER question the banks or the government. It certainly opened my eyes as to how corrupt the entire system has become. You just have to wonder how they split up that $400 million.  Here is the court transcript of the prosecutor Richard D. Owens explaining HSBC would pay the restitution to the court but he failed to explain that the $400 million was our profit he was handing to HSBC and others one must guess.
I was flat outright told in soliciting me to invest in Hermitage Capital that Yeltsin would step down and they would have control of the metals, energy, and diamonds of Russia. Keep in mind that Safra was a hard-money guy. He would call the metals desk at his bank every day. The idea of getting hold of the resources of Russia was the grand scheme of manipulating the commodity markets that various New York players had been engaged in for decades. Who was the mastermind? I do not know. Perhaps Putin does.
As far as the $10 billion was concerned, many of our Japanese clients believed the case was intentionally created by the Japanese Deep State as a favor to the Americans. We were filing a lawsuit against Republic National Bank and Edmond Safra for taking the money which halted the take over by HSBC. They put in a receiver at O'Melveny & Myers to seize the company and prevent any lawsuit to protect the bank. In 2004, the SEC even moved to end the contempt, but it was O'Melveny & Myers who argued to keep the contempt going against the SEC. The lawyer was Martin Glenn who was later then given a judgeship.
This entire series of events appears to be a huge cover-up of an attempt to take over Russia. That is what Putin is saying that they will let Mueller in to interrogate Russians if they can do the same with respect to this entire mess. This is why both movies were banned and nobody in the press will dare to report anything. All they do is call for war effectively with Russia. Here is Putin's case against Browder. Trump seems willing to open that door. Don't forget, they have been beating Trump relentlessly about Russia interference in the 2016 elections. Trump's son was represented by a lawyer I had in my case. So don't think for a minute that nobody knows the truth.
As far as the $10 billion they wanted me to invest into Browder's Hermitage Capital, here are the two letters from the Japanese government. Notice how they suddenly correct their letter of August 18th on August 31st, 1999 from $10 billion to $1 billion. They would not allow the companies to ever have lawyers, myself, or any of the partners. They simply wanted to make sure nothing would EVER go to trial to keep this issue hidden from the public and this is why they have banned both films in the USA. If it is BS, then why ban it if it is nonsense? In both films, the government was invited to give their version. In both films, they denied any public appearance to deny anything.