Blog/Corruption
Posted Oct 11, 2022 by Martin Armstrong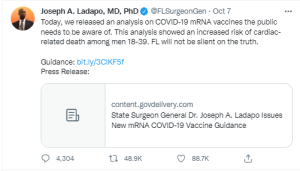 Florida Surgeon General Dr. Joseph Ladapo posted a warning on Twitter only to have the platform silence him. It is his responsibility to inform the public of potential health hazards. There should be a crackdown of Twitter for stifling free speech. The surgeon general's tweet was reinstated after the weekend amid backlash. Hopefully, their desperate attempt to silence the truth backfired and brought more awareness to the problem.
The Florida Health Department examined those who had mysteriously died within 25 weeks of receiving the COVID vaccine. The guidance link provided by Dr. Lapado urges healthcare providers to examine the risks associated with these mRNA vaccines.
"The Florida Department of Health (Department) conducted an analysis through a self-controlled case series, which is a technique originally developed to evaluate vaccine safety. This studied mortality risk following mRNA COVID-19 vaccination. This analysis found there is an 84% increase in the relative incidence of cardiac-related death among males 18-39 years old within 28 days following mRNA vaccination. Individuals with preexisting cardiac conditions, such as myocarditis and pericarditis, should take particular caution when considering vaccination and discuss with their health care provider."
These findings are extremely alarming, and the surgeon general recommends AGAINST COVID-19 vaccinations for men between 18-39 years of age. An 84% increase in cardiac-related deaths is astounding and a true eye-opener of how deep the cognitive dissonance is embedded in society, as NO ONE is discussing this matter. People are more concerned about Twitter removing the tweet than the actual content. The guidance continued:
"Based on currently available data, patients should be informed of the possible cardiac complications that can arise after receiving a mRNA COVID-19 vaccine. With a high level of global immunity to COVID-19, the benefit of vaccination is likely outweighed by this abnormally high risk of cardiac-related death among men in this age group."
Men over the age of 60 experienced a 10% increase in cardiac-related deaths as well. They are also recommending against the use of these dangerous vaccines in healthy children under 17. We should have already reached herd immunity long ago. The risks associated with the vaccine far outweigh the benefits (if there are any benefits). Healthy young men should not be dying from heart failure – the COVID narrative must end.