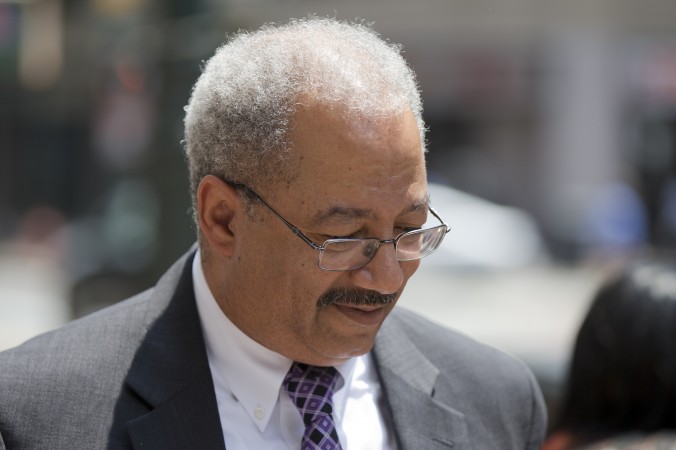 Former U.S. Congressman Chaka Fattah was sentenced to 10 years in prison for misspending government grants and charity money to fund his campaign and personal expenses. It is amazing how the standards are so different for anyone other than the Clintons. U.S. District Judge Harvey Bartle called the Philadelphia Democrat's crimes "astonishing," especially since he and his wife Renee Chenault-Fattah, who was an NBC TV anchor, had a $500,000 annual income that put them in the "top 1 percent."
Fattah spent two decades in Congress before losing the primary this year. He went to trial earlier this year and the jury found that Fattah took an illegal $1 million loan from a wealthy friend to prop up his failed 2007 campaign for Philadelphia mayor. He then repaid some of it with federal grant money from NASA that he had steered to an education nonprofit run by loyal former staffers. Like Hillary, he used $23,000 in nonprofit funds to repay his son's college loans and took an $18,000 bribe to try to help a friend become an ambassador. He even lobbied President Barack Obama on the friend's behalf, but to no avail. Fattah and his wife used the $18,000 for a down payment on a Poconos vacation home. Fattah made up the excuse to authorities that the $18,000 covered the friend's purchase of a Porsche owned by his TV star wife, but the Porsche never left their garage.
The Judge said, "For someone so interested in advancing education for the disadvantaged, you had the temerity to steal from the Educational Advancement Alliance, a nonprofit supported by government funds."
The judge continued saying it was really "astonishing" that he would steal money to cover his son's debts, pay taxes, and buy a family vacation home.
His son is serving a five-year prison term in an overlapping fraud case that went to trial last year. His son was convicted of using fraudulently obtained business loans to fund his jet-setter lifestyle. His wife resigned from TV when she was named in the indictment as a participant in the bribery scheme. She was never charged and has denied wrongdoing. But the two political consultants for her husband also pleaded guilty in the case and testified against him. There were four others convicted at trial including former Philadelphia Deputy Mayor Herbert Vederman who had sought the ambassadorship.