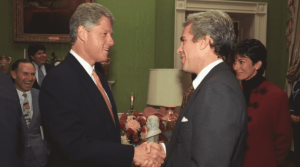 Reminder: Jeffrey Epstein did not kill himself. The media stopped covering Ghislaine Maxwell's trial but she is still alive and so are her secrets. She is imprisoned for sex trafficking, but not one abuser has been identified or brought to justice. The media failed to mention that she recently agreed to reveal the names of the alleged sex ring members in exchange for a reduced sentence. If she were to produce the names of high-profile clients, such as politicians, that would only help her case.
Epstein likely blackmailed high-profile individuals by using underage girls as bait. Bill Clinton was one of those individuals, allegedly, and the man linking Clinton to Epstein just died under mysterious circumstances. Clinton's former special advisor Mark Middleton passed away at the age of 59 in a "sudden" death, according to his family. In 1994, the Clinton campaign asked Middleton to seek out funds from Les Wexner, and his money manager was none other than Jeffrey Epstein.
Bill had been linked to Epstein ever since and allegedly granted him access to the White House numerous times. Middleton is the original link between Clinton and Epstein and even flew on the Lolita Express. The Clintons initially disposed of Middleton, politically, in 1995 after they accused him of abusing "access to impress business clients and he was barred from the executive mansion without senior approval" and there was a probe against him the following year.
Middleton left politics entirely and lived a life out of the spotlight. Yet, the connection remained. As soon as Maxwell stated she would reveal her client list, Middleton suddenly passed away. Coincidence? What names will Maxwell reveal, and will the media cover the story?