Black Lives Matter (BLM) has become a money-laundering operation. The problematic organization used a catchy slogan to spread hate while the people in charge became millionaires. It recently came to light that the group purchased a mansion in Los Angeles for $6 million in October 2020 with charitable donations. Dyane Pascall, a BLM member with close ties to co-founder Patrisse Cullors, purchased the mansion in cash before transferring the deed to the Black Lives Matter Global Network Foundation days later.
Pascall simply stated, "I don't owe you an explanation," when questioned about the illegal transaction. "This home is not just a home — it's, like, four structures," Pascall told the Washington Examiner. "It's a film studio, sound stage, commercial space, office space. It's a campus. It's got 20 parking spaces so people can come and work. It's not a home per se. It's an actual campus space for people to work from." The 6,500 square foot mansion boasts six bedrooms and room for over 20 cars. Is that not a red flag?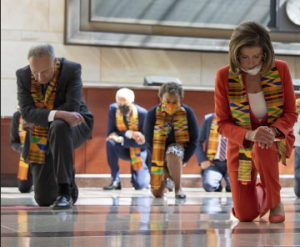 Worsening matters, some news agencies are reporting that Dyane Pascall purchased the nearly $6 million mansion days after another BLM member purchased it for nearly half the price. This is not the only mansion that the organization owns under the tax-exempt status that was provided to them in December of 2020. Interesting that self-proclaimed Socialists would be interested in high-end luxury real estate. But as with all Socialists, the problem becomes when they run out of other people's money.
BLM has become untouchable because people are afraid to be labeled racist. In reality, BLM has caused more harm than good for their own community. Since the left is desperate for voters, they have pandered to this organization and turned a blind eye to the blatant crime. BLM burned down shops and toppled police cars, yet there was never an investigation, and the protests were permitted to continue. The money that was supposed to help uplift those who they believe are systematically oppressed was instead used to make the founders multi-millionaires. California threatened to sue the organization for failing to report its finances, and Amazon removed the organization from its AmazonSmile charity program. The Department of Justice needs to investigate, and the donors should be outraged. Politicians such as Joe Biden and Justin Trudeau needed the BLM organization to create a racial divide and secure the minority vote instead of actually implementing policies that would help their cause.