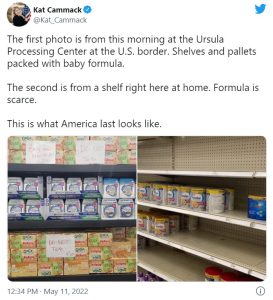 The baby formula shortage has reached a critical level in America. Stores are rationing purchases if they even have the product in stock. Republican Rep Kat Cammack broke the news that baby formula was available, not to taxpaying citizens, but for illegal immigrants at the US-Mexico border. Maria Bartiromo of Fox News followed up on the story after CNN, the White House, and others accused Cammack of lying.
"Lo and behold, not only was there stocked warehouses, but there were multiple stocked warehouses that have been not only filled with baby formula, diapers, wipes and clothing, but they have been doing this for months and there's more en route," Cammack told Bartiromo after going to the border to see what was happening.
Under different conditions, this would be a humanitarian act of kindness to provide other nations with crucial supplies. The problem is that Biden is abandoning his own citizens in favor of international interests and a new wave of hopeful Democratic voters. It is more enticing to come to the US border now that products unavailable to the public are available for free at the cost of the US taxpayer. As the President of the United States, Biden is our public servant who is expected to put the interests of his citizens first and foremost. American babies are starving as warehouses full of formula sit idle at our unsecured border.