Blog/Conspiracy
Posted Apr 6, 2020 by Martin Armstrong
Bill Gates is the single greatest threat to your future. His entire agenda is to outlaw all gatherings until you are vaccinated and chipped so they know you are vaccinated. This man is conspiring to take down Western culture. The Left has jumped on his band-wagon so rapidly, this is an unquestionable coup with the VERY SAME objective of the Global Warming he also has been pushing. We are in a very battle for our own freedom. He is wiping out the economy and all jobs unless you accept his agenda. He has destroyed small businesses and pushed his personal agenda to deprive people of their livelihoods and he has suppressed the poor even the worst. They were living pay-check to pay-check.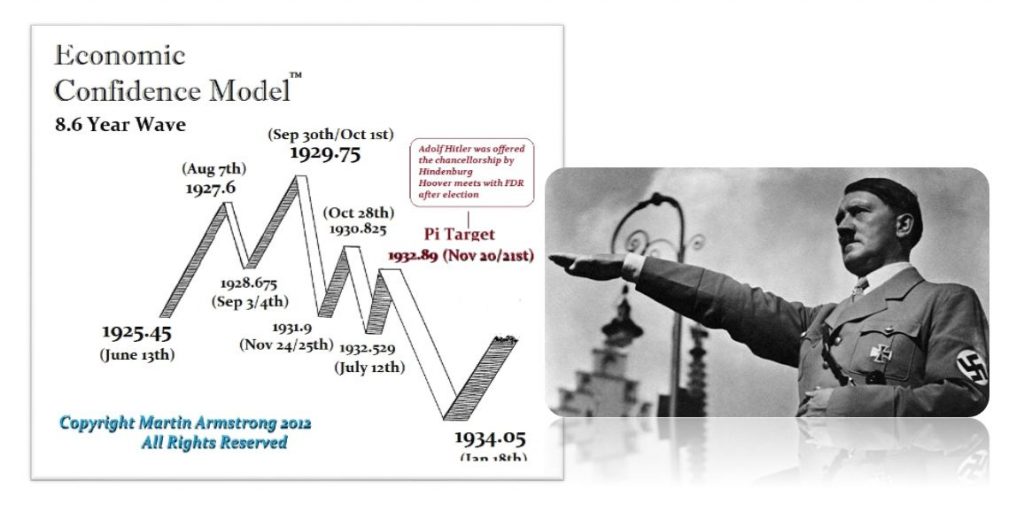 This is exactly the approach of Adolf Hitler took before he turned against the Jews. He was systematically killing invalids and war veterans who had been handicapped during World War I. They were inferior and this is what Gates is proposing with his vaccines that you are inferior without it. You either accept his chips, or you will be permanently confined to your house and starved to death I suppose because you will be unable to hold a job.
Hitler took the physically and mentally handicapped and viewed them as a threat to his Aryan race and these people were deemed as "useless" to society, and, ultimately, unworthy of life. There are countries already considering bans on entering the public unless you have been vaccinated. It is one thing if we were facing the Black Death with 50% death rates. We are running 10% of the death rate of the flu. So what is going on? This makes no sense for a virus. There will be many more so do we need a chip for every disease? Refuse and we are a threat to his great society? Sounds very Aryan race to me.
Hitler rose to power PRECISELY on the Pi Target – 1932.89. Bill Gates has unleashed his conspiracy against the people precisely on the turn of the ECM on January 18, 2020. There was a meeting in Switzerland where select people were told this virus would crash everything so get out of your stocks and bonds (this is not speculation or a guess).
We are looking at an authoritarian government coming to the West by 2024. Bill Gates is openly destroying the Industrial Revolution and proposing to imprison us unless we accept his dogma. When like minds such as his and Soros end up at the end place, it is called a conspiracy. Socialist politicians are far too eager to accept this simply because they know their systems are collapsing.
Bill Gates' father was on the board of Planned Parenthood which many saw as a covert means to justify abortion among minorities in a very similar way to Hitler's cleansing. Bill Gates in an interview said:  "When I was growing up, my parents were almost involved in various volunteer things. My dad was head of Planned Parenthood. And it was very controversial to be involved with that. And so it's fascinating. At the dinner table my parents are very good at sharing the things that they were doing. And almost treating us like adults, talking about that."
His views of overpopulation are dominated in his CO2 arguments on how to prevent climate change by reducing the population. He and his puppet Fauci are trying to block anything other than his vaccine when studies in France have shown 100% effective use. Gates is cheering the death toll to support his agenda.
The leftist hate Trump and send me such hate mail while pretending to be pacifists. They think freedom is their right to force everyone else to comply with their vision. My vision is to just split the country and the left move left and everyone else moves to the right and construct a wall down the center. I believe you leave me alone and I will leave you alone. I was not born to be some else's slave and do not want them to be my slave. They are not satisfied with that – they must oppress everyone to their idea. That is authoritarianism and they can't even see that.