Posted Jul 26, 2019 by Martin Armstrong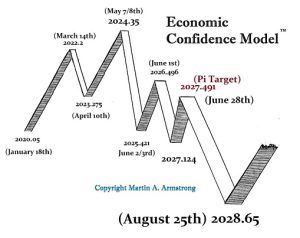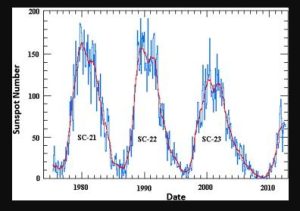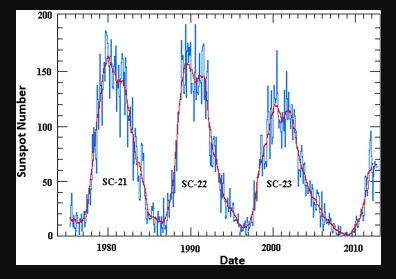 Our computer correlates everything from economics to nature. We have been warning that the next 8.6-year wave in the Economic Confidence Model appears to be one of inflation. This should be a cost-push version, meaning not DEMAND but shortages. One of the serious correlations we see is that the next solar cycle of 11 years may be the lowest in at least 200 years on our model, which calls for the low in a wave of 224 years to be precise.
Our forecast for this next solar cycle of activity, which rises and falls in an 11-year cycle, is indeed in a bearish trend but it correlates with the ECM – which is rare. If our computer is correct, then the next solar cycle should be at least one-third less solar activity and it could rise to a panic type of decline of 50% as measured in terms of sunspots. This analysis warns that the next cycle will start in 2020 and reach its maximum in 2025. This further warns not of global warming, but highly volatile weather and crop failures as we hit both extremes.
The next two solar cycles will be the risk of violent weather and global cooling.