Posted Jul 19, 2019 by Martin Armstrong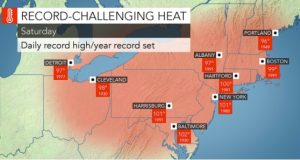 QUESTION: Mr. Armstrong, in relating your comments on weather and how the winters will spike to record cold and then the summers will spike to record highs, is this the same as a panic cycle in markets?
HC
ANSWER: Yes. Our computer looks at the weather the same as it does with the price in a market. Patterns emerge and you can understand the causes ONLY by correlating the trends with everything else. This is indeed a Panic Cycle where we exceed the previous high and penetrate the previous low. This coming weekend will see temperatures break 100 in the Northeast. I have lived in New Jersey and there were plenty of summers where we have days at 103. This is NOT abnormal. What is abnormal is the volatility how we can go from a winter where it was colder in Chicago than it was in Antarctica and then we break the record highs in July. It is the VOLATILITY – not the empirical level of temperature we should be paying attention to.