Posted Jan 13, 2023 by Martin Armstrong
QUESTION: Marty, I think Schwab's great reset is all about your 2032. He seems to be a Socrates subscriber and is just trying to manipulate the outcome in his direction. What do you think?
Joe
ANSWER: I know, Many people have noticed this trend. This is coming up more and more. Back in 1983/1984, a major player there in Geneva was trying to buy my name to start Armstrong Brokerage. I was offered $5 million and told I did not have to do anything. It did not smell right. I declined. But they put on a huge party in Geneve to honor me which was really about trying to impress me with how powerful they were.
Back then, Geneva was like one masquerade party. You never knew who anyone really was. I ended up managing money TWICE for Muammar al-Qaddafi. Even Aristotle Onasis was a client. When Ferdinand Emmanuel Edralin Marcos fled the Philippines with the February 1986 revolution, that is when the FBI came to me asking me where Marcos had taken the $5 billion in gold reserves. I said I did not know Marcos. It turned out he was a partner with Qaddafi and they were part of the group behind trying to use my name for a brokerage house.
It was October 1985, when the Bank of England and the Monetary Institute of Luxembourg (Luxembourg's bank regulator) ordered BCCI to change to a single accountant after they became alarmed at reported BCCI losses on the commodities and financial markets. They ended up coming to us for they lost a fortune with the turn of the ECM in 1985 and the Plaza Accord's desire to manipulate the dollar lower. Geneva has always been a magnet for interesting conspiracies and the WEF appears to be in the middle of interesting times.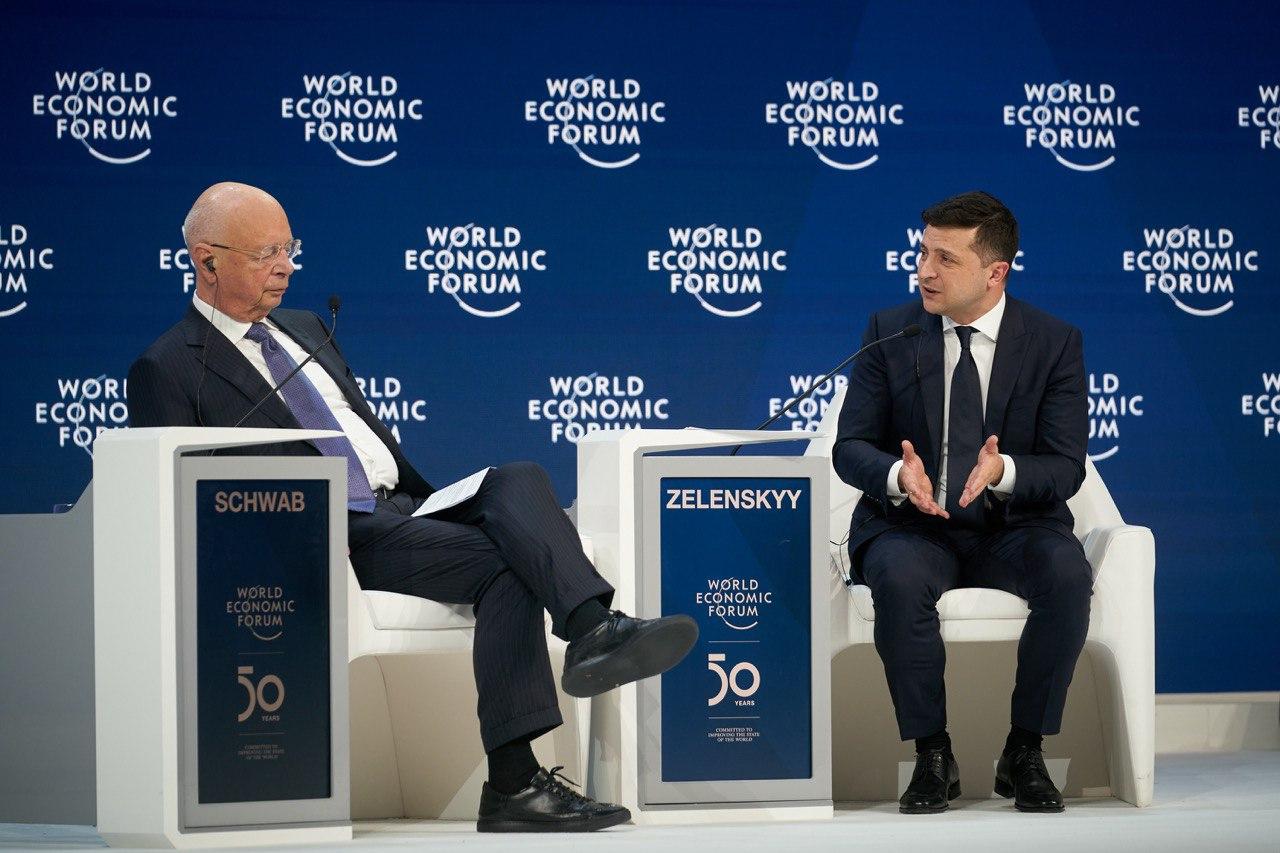 The Swiss government has sent in 5,000 troops to protect DAVOS. That is interesting and it does reflect the rising security problem that is surfacing because of Klaus Schwab's insane authoritarian proposals. I have been told people will often have his photo up in gun target ranges.  The lies are staggering. Zelenskyy told the Golden Globes audience: "There will be no third world war." Back in March 2022, he said that World War III may have already begun. Then in June 2022, he was saying that Russia would invade Europe within a year. He manipulated audiences all the time. That is what he is good at. Some believe he is also in league with Schwab.
The report released ahead of the WEF's annual conference was based on interviews with 1,200 members of the WEF including academia, business, and politics. They provided their views regarding major short- and long-term risks facing the world in the decade ahead. Naturally, they think that they can be activists to avoid these risks. They include the rising cost of living created by COVID and Russian sanctions, slow economic growth which cannot be solved with rising taxation, and tight global food and energy supplies which they are creating between the Russian sanctions and their anti-fertilizer war for climate change. They focused mainly on an ecological crisis. Some are calling this a 'polycrisis' which is defined as a cluster of related global risks with compounding effects.
The WEF report made the same case that while global cooperation is normally a "guardrail" against global risks, geopolitical dynamics in the first half of the 2020s stemming from U.S.-China tensions and the Ukraine war threaten to weaken international ties to tackle climate change and global development when they are most needed.
The WEF concluded:
"In the years to come, as continued, concurrent crises embed structural changes to the economic and geopolitical landscape, they accelerate the other risks that we face."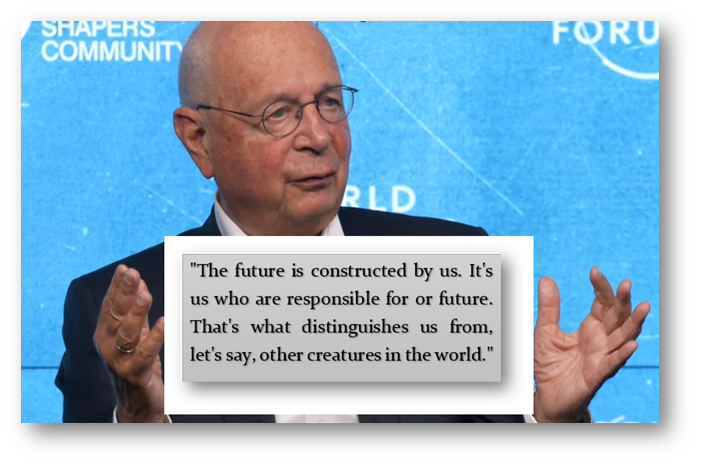 It is an idea of Schwab's that we even have the power to manipulate the future when in fact, it has been these very manipulations that are causing the problem. You have people already experimenting with shooting particles into the atmosphere to cool the planet. The company is named Make Sunset. It is experimenting on its own without any supervision or regulation that can screw up the entire planet all for climate change. What if this entire idea of manmade climate change is wrong? The New Yorker warned we are moving toward using particles to block the sun last November. We can be destroying civilization and sending the earth into an Ice Age with just a couple of volcanoes. Thank you Schwab for making your insanity worldwide acceptance.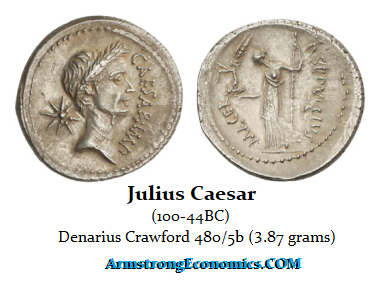 I do not know if Schwab's "Great Rest" is rebranding our 2032 ECM. Perhaps, since whatever I do he seems to copy. But the difference is he sees this as an opportunity to force the resolution into his world of authoritarianism. I believe the solution is to try Democracy just once and end career politicians. He is trying to train and install politicians everywhere to force his ideas upon the world. The one thing that is certain is that 2032 will mark the end of Republic forms of government – the most corrupt in human history.
Will a modern-day Caesar emerge to cross the Rubicon to defend the people and end our corrupt republics all over again? Will the elite assassinate him as they did to Caesar as this coin boasts of Brutus that he killed Caesar on EID MAR (Ides of March, 15th, 44BC)?