Posted Jun 5, 2023 by Martin Armstrong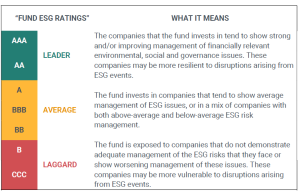 (images directly from BlackRock's website – click on them to enlarge)
The first bill that President Joe Biden vetoed was a bill intended to dissolve the ESG climate social credit score. The bill passed 50-46 in the Senate before being destroyed by Biden. Out of all the issues facing America, Biden chose to use his presidential powers to kill this bill because it is intended to promote the Great Reset to Build Back Better.
House Speaker Kevin McCarthy (R-Calif.) stated that the "woke ESG rule [would let] Wall Street use your retirement savings to fund left-wing political causes." "The House blocked Biden's woke ESG agenda. The Senate blocked Biden's woke ESG agenda. Now it heads to the President's desk. He must side with American workers and sign it immediately," McCarthy stated, only to have Biden veto the bill. Those in support of the bill stated that the Labor Department was given the power to misdirect $12 trillion in retirement funds affecting 150 million Americans.
BlackRock CEO Larry Fink naturally supported Biden's veto. GOP donors held a conference in March in which they asked the panel: "Who's more important: shareholders or stakeholders? Is the 'stakeholder capitalism' being sold by Larry Fink and other investors really stakeholder politics?" They also accused Vanguard and State Street of meddling in politics on behalf of the far left. Fink responded to critics by claiming BlackRock was not the "environmental police."
Furthermore, Fink claimed that it is the place of government, and not companies, to implement social and environmental policies. This goes directly against his letter "A Sense of Purpose," in which he said the people needed the private sector to implement policies since government had failed to do so. Fink insists clients want sustainable and progressive investment opportunities to add to their portfolios. Yet, BlackRock is known to abandon companies that fail to adhere to strict ESG policies.
Fink points to natural disasters that humans could never prevent as a main reason for forcing the ESG score. The truth of the matter is that these titans of finance and various global governments are all supporting the Great Reset movement.