Blog/Civil Unrest
Posted Nov 14, 2017 by Martin Armstrong
QUESTION: Mr. Armstrong, I greatly appreciate everything you do. I was moved when you ended your WEC in Orlando explaining that you see this as we are all in this together. You really make an effort to pass along sound advice without strings attached to solicit money. A very admirable effort I wish others would follow.
My question is this. At the 2015 WEC when Russia invaded Syria on the precise day of your model, you said this would be an important event moving forward. The entire refugee crisis began from that date and now they seem to be winning the war against these jihadists. Now the tensions are rising between Saudi and Iran. Is this part-II of the Middle East crisis? You said back in 2015 that the mere fact Russia entered Syria on the very day of your model signaled this will be the region we should watch. So will this escalate now?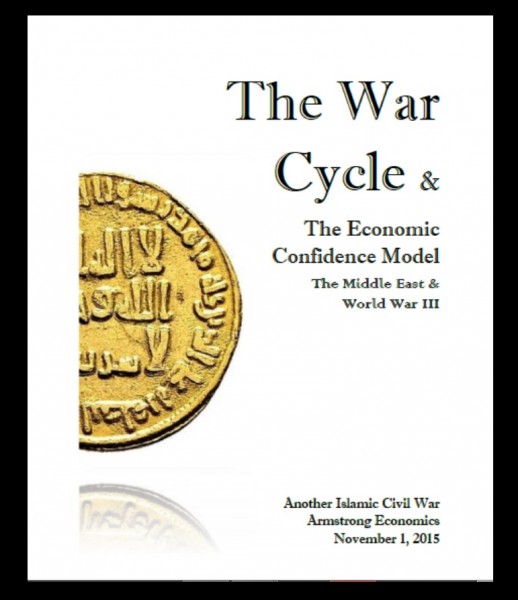 ANSWER: Yes. I wrote in the 2015 War Cycle: "It is extremely disconcerting that on the very day of the peak on the Economic Confidence Model, September 30, 2015 (2015.75), Russia began bombing forces trained and funded by the United States to overturn the Syrian government of Assad." In 639 AD, Muawiyah I (b. 602–680 AD; r. 661–680 AD) was appointed Governor of Syria as it fell to the Muslim Conquest. We are now in the 26th 51.6-year wave from that event which is a major turning point.
The focus is turning to Idlib, which is a city in northwestern Syria. It is the capital of the Idlib Governorate, which is about 59 kilometers southwest of Aleppo. Because the Syrian government wants to evacuate all jihadists to Idlib, this will present a problem to Turkey which it borders. The Syrian state has offered to give the jihadists safe conduct and let them go to Idlib. For about one to one and a half years, jihadist terrorists from all parts of Syria are being transported to Idlib.The majority of these militant fighters appear to belong to the al-Nusra Front. These terrorists are well armed and have between 30,000 and 50,000 tanks. They also have missiles, chemical weapons, and other assorted war equipment.
In Turkey, the fear is that they will eventually flee Syria and enter Turkey. At least half of the terrorists are from Chechnya, Dagestan, Central Asia and other areas of the Russian Federation. They are not even Syrian. They have been a foreign invading army in Syria driven by religion. Under Trump, the USA has agreed with Russia that Idlib needs to be cleared by al-Nusra terrorists. There is a serious cooperation between Russia and the US regarding Idlib, which did not exist under Obama.