Blog/Civil Unrest
Posted Aug 30, 2020 by Martin Armstrong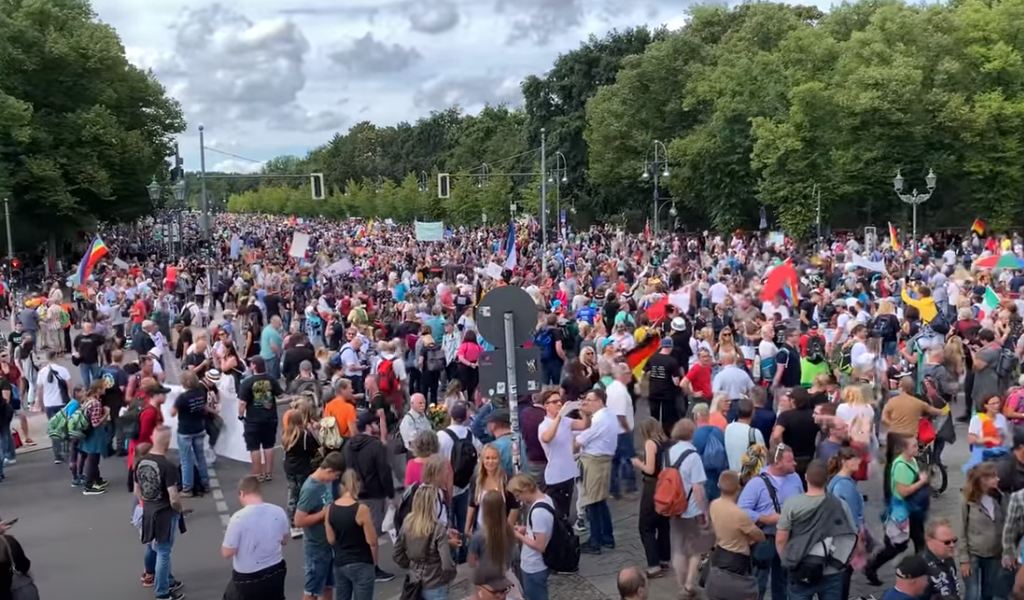 COMMENT #1: Hello Martin!
Hope you an your family are doing good! Thank you very much for your support!
Just a small summary today sunday 13:00 Berlin time:
The demo (so to say) – partly – continued until early monring, as some hundred people tried to built up their tents/to camp in the green area of
district Tiergarten (around Straße des 17. Juni).
I went to bed and don´t know yet, if they had success to do so. – Some want to stay, I´ll follow up the coming days!
At 15:00 the "after demo" should be held, less people off course, but to state, some "hardliners" (non-violent) are stil staying here.
As far as I know by now, the major demo was peaceful and personally I´ve not heard about violence from demonstrators nor police. (It seems there
were some fewer arrests from disoriented people, but from my point of view you can not talk about violence from site of police nor demonstrators).
We had police focres from different German states. In general police in Berlin is more relaxed and used to "handle" such situations. Young police
officers from other German states, with less experience in chaotic situations are often a bit more stressed in such situation, they never had
to handle before.
What is really "strange"! – Sunday morning/noon, German TV, something like 16 TV stations (German (state)/public legally) TV) pluis some 20 private channels (all free TV) have only 2 formats streaming yet, so called "Presse Club" (paper print press – old fashioned press) in which they discuss about "Belarus" and Lukaschenko, and how "dreadful" this dictator is and that Putin is "not allowed" to take influences in Belarus, and we must put additional sanctions onto Lukashenko as well as on Putin! – On Putin as well because of Alexej Nawalni who was poisened in Siberia/Russia
and now is treated in Berlin general hospital Charité (but the evidence is not available yet! – I can imagine that it happened this way, but to me, there is simple no valid evidence yet available, for these "media people "it is for sure!").
Nichts – nada – nothing in relation to our more important theme "inner politics in Berlin/Germany and other demos in the world of 29.8.2020".
To me it looks like Policital Berlin is paralyzed, it is a topic that cannot (yet) be discussed. It seems all the media wait for a statement of
Merkel or a press conference of the Kanzleramt (chancellery) or mimimum "a hint from chancellery" how to handle this theme, who to state, how to
report and what to report. – Everything I see and hear (yet) is silence! – Can it be they think they simply can keep it quiet?
Anyway, I´ll keep you updated from Berlin the coming days!
Wishing you and your family a relaxin sunday!
Sincerely
D
REPLY #1: It appears the worldwide press has continued to try to ignore the 29th and pretend it did not exist. We find the New York Times saying the police stopped the march in Berlin with the headline: "Berlin Police Halt March Against Coronavirus Restrictions, Saying Protesters Risked Spreading Disease". Clearly, this was intended to discourage protests. The Euronews reported: "Far-right extremists attempt to storm Bundestag after halted 'anti-COVID' rally." The news is clearly propaganda and they are desperate to help create a police state and to deprive all the people of all freedoms. We have to start wondering what is going on in these newsrooms.
COMMENT #2: Mr. Armstrong, I can see you have people sending you their videos. We would never see that in the press. I attended from Greece. This was a European crowd with many Americans as well. Thank you for showing we are not Natzis.
AP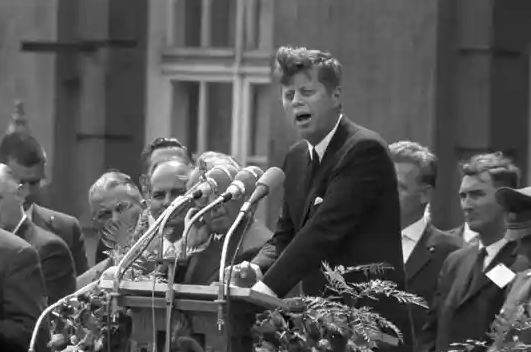 REPLY #2: Yes. So many have been writing in. I do read all the emails. John F. Kennedy was there in Berlin in June 1963 and the city was the front line defense against Communism. He said then, I am a Berliner 'Ich bin ein Berliner'. Berlin has once again become the front line against the rising Marxism that is like cancer eating away at all of our freedoms. I went behind the Berlin Wall before it fell with a friend who happened to be walking with his grandmother on the right side of the street when the Russians seized East Berlin and he was cut off from his family. I saw first hand what was behind the wall and how his cousin was afraid to speak if anyone was near us.
With the mainstream press painting everything there as far-right Natzi, they are part of the coup against the people. These are very evil journalists that should look at history. If they push this into a revolution, they will be dragged from their offices and mercifully hanged rather than set on fire as has been the case many times even in China. When you betray the people, you risk your life in all revolutions. They should start asking whose agenda they are supporting – a select few, or the people?
COMMENT #3: Hello Mr. Armstrong,
thank you for all the work you are doing. I have been a long time reader and Socrates member. I am in Germany and when I read your posts yesterday about the protests I thought you may find it interesting to know that Germany does not have a constitution. It is "only" a Basic Law given to the people of Germany from the victors of WW2. It even says so in said law:
This actually has led to much confusion within Germany, politics, and social structure. Anyway, keep up the great and wonderful work, be safe and much healthier.
IW
REPLY #3: You are correct. Interestingly they still call the court the "Constitutional Court" to mislead people.