Blog/Central Banks
Posted Nov 4, 2022 by Martin Armstrong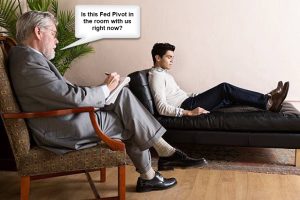 Thank you to the reader who sent in this hilarious image. Despite all the incoming data and price instability, some expected the Fed to pivot on its stance. Even BlackRock reportedly told advisers to expect "pivot language" at the last Federal Open Market Committee meeting. They were hoping that the Fed would announce a looser stance for the December meeting despite conditions failing to improve.
The markets correctly anticipated a 75 bps hike for November. Jerome Powell said that incoming data from the last meeting has led the central bank to believe that rates will edge HIGHER than originally anticipated. PCE rose 6.2% over the past 12 months, with core PCE rising by 5.1%. Long ago after Powell changed his "transitory" stance, he reiterated that the Fed's main goal is to bring levels back to the 2% target. Price stability is the top priority – period.
"As I've said in the last two press conferences, it will become appropriate to slow the pace of increases, as we approach the level of interest rates that will be sufficiently restrictive to bring inflation down to our two percent goal. There is significant uncertainty around that level of interest rates. Even so, we still have some ways to go, and incoming data since our last meeting suggest that the ultimate level of interest rates will be higher than previously expected," the chairman reiterated.
The central bank realizes that the situation will only worsen. "Restoring price stability is essential to set the stage for achieving maximum employment and stable prices in the longer run. The historical record cautions strongly against prematurely loosening policy. We will stay the course, until the job is done," Powell commented. His Q&A after the announcement only reiterated his extremely hawkish stance (see video above).
Powell said the Federal Reserve is honing in on three main factors: 1) how fast to tighten policy, 2) how high to raise rates, 3) how long to remain on the current course. Powell said they would move "expeditiously" to move rates, especially given the low starting point. He believes that incoming data justifies ongoing rate hikes, and his estimate is higher than what was announced in September. Finally, he said they might have a discussion on when to loosen policy, but there was an emphasis on the word discussion.