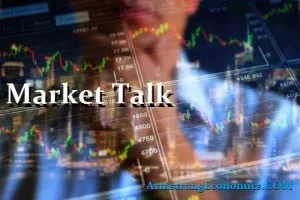 "The mood seemed anxious" – this was one comment we heard today as prices drifted in Asian light volume. The FED had already put a hawkish tone into the markets following their meeting but then commodity prices aren't really helping matters either. The ASX has felt the weight of BHP and Rio price action recently and couple with the very weak energy prices seen this afternoon in US trading, this will not help the Australian Index or the currency when markets reopen later this evening. Looks as though US fiscal policy continues to hinder other central bank moves to reflate their economies. In Europe recent data has improved and this is starting to feed higher bond yields but interestingly at a greater pace than the US. Domestic bond prices in China have also been falling recently following the withdrawal of investment flow – as we reported in MT back on April 25th. Domestic banks continue to deleverage ahead of that June 12 regulatory deadline, despite todays weak PMI data. Payrolls in the US tomorrow but you wonder how much of an impact it could have for Europe ahead of the vote in France on Sunday – maybe, we need the result to spur the move for next week!
The UK's FTSE closed +0.2% higher in todays trading but way underperformed the CAC, DAX and IBEX where they closed up +1% or higher (IBEX +1.6%) with the DAX exceeding contract highs. Better than expected earnings and market confidence that Macron will be successful in Sundays election is already feeding into a buoyant Euro session. HSBC started the move early beating expectations and rallying near 3% on the day. The EURO currency also bounced from morning lows taking levels back towards the 110 handle, nicely ahead of the May 8th Turning week. The lower energy prices (-4.5% so far) also has a negative impact on commodity currencies with the Russian Rouble down around -1.8% today.
US stocks were lower initially but only to recover by the close. Banks and Industrials led the move after the House passed a bill to replace Obamacare. The price action was interesting today that despite less than anticipated data core indices recovered into the close. The first Friday in the month so all eyes will be on the screens at 13:30 EST where expectations are for a +180k print. We will also hear from a host of FED speakers tomorrow coupled with the Consumer Credit number mid-afternoon.
2's closed 1.31% (+2bp), 10's 2.35% (+3bp), 30's 3% (+3bp). Bunds 0.39% (+7bp) – closes US/Germany at +196bp (-4bp). France 0.82% (+2bp), Italy 2.24% (-1bp), Greece 5.82% (-3bp), Turkey 10.20% (+8bp), Portugal 3.38% (-4bp) and Gilts 1.11% (+9bp)