Blog/Market Talk
Posted Jun 6, 2017 by Martin Armstrong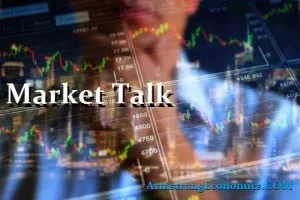 Some were disappointed that the RBA (Reserve Bank Australia) did not actually cut rates and so were saw a sell-off in the All Ords. The Index declined around 1.5% with losses seen across the board in Financials, Energy and Resource stocks. The RBA reported balance of payments wider than expected (A$3.1BN). The currency balanced some of the equity losses but only marginally, trading from 0.746 up to 0.7520 (+0.35%) but we do have GDP later in the week. The Shanghai and Hang Seng both performed well (+0.35% and +0.5% respectively) but there remains Talk that these may have a little assistance along with the currency (now around the 6.794 level). In Japan the Nikkei lost almost 1% but saw the currency trade from 110.60 down to 109.30 a yen rally of approximately +0.9%. SENSEX drifted -0.38% awaiting global data later in the week. The Qatari Exchange declined for the second day. Having closed -7.27% on Monday, after the rejection of an early rally the close ended at -1.56%, with losses from Transportation -3.96% and Real Estate -2.67%. The 1yr QAR off-shore was quoted late 450/650 whereas the local was tighter at 275/425; spot remains 3.64 as is fixed to the USD.
Europe was weaker again for the seventh day in a row as nerves continue ahead of the big events due Thursday. The weakest of the core was the DAX, declining just over 1%. Leading the way lower was Adidas, Bayer and Continental. The CA also declined 0.7% but we saw almost unchanged levels for the UK's FTSE and IBEX. Banco Popular fell another 6.2% in todays trading. As a measure this puts the YTD return at -79%.
US stocks played in a narrow, all be it lower, range for much of the day eventually closing down around the days lows -48 points (-0.25%). Other core also closed small down but we did see a rally in VIX as today it closes +6% at 10.67. With so much on the agenda from central banks, elections, data and Comey's testimony the drive for safe-havens continue to grow as money moves into Treasuries. The market still anticipates the FED to hike next week, with another potentially in September.
2's closed 1.29% (-1bp), 10's at 2.14% (-4bp) was talk earlier in the Asian session that China were rumoured to be increasing their treasury holdings, 30's 2.81% (-3bp), Bunds 0.25% (-3bp) which closes the US/Germany spread at +189bp (-1bp). France 0.67% (-5bp), Italy 2.24% (-2bp), Greece 5.95% (+3bp), Turkey 10.10% (-1bp), Portugal 3.04% (+3bp) and UK Gilts 0.98%