Blog/Market Talk
Posted Jun 5, 2018 by Martin Armstrong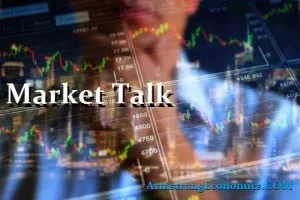 Although yesterdays US session was a solid performance, it had produced that gain within the first couple of hours trading, so although solid did not really extend much further. That sentiment was reflected in Asia today with gains but not excessive and left some core behind, especially having had to recover from some early losses. The Australian ASX lost all of yesterdays swing at the expense of the currency's gain. Exporters were feeling market resistance with financials, mining and energy all declining as the A$ strengthened and the oil price lost more ground. Oil was off over 2% at one stage after the recent news that stockpiles and of increased production. Financials, energy and exporters were also heavy on the Nikkei today as currency and regional concerns continue.
Meanwhile, Europe did follow the marginally positive Asian direction with the DAX, CAC and peripheral markets making headway. The UK 's FTSE traded heavy following
G7 later in the week with many expecting Trade wars, energy and QE to capture headlines. The stresses are becoming noticeable in the periphery but also with financials and more specifically, banking stocks. The FTSE MIB in Italy lost 1% in today financials decline, but more noticeable is RBS in the UK FTSE. Having heard the UK government has unloaded their stake the stock declined 5% today. The government raised £2.5bn but is a £2bn loss on their initial investment. This didn't help the index that closed down -0.7% on the day.
US markets were reasonably well behaved for much of the day and trading in a steady yet modest range. The NASDAQ set more intraday highs and closed higher also. Trade Talks are keeping the bullish euphoria in check, but the EU is keeping it relatively easy for them as their numbers seem to be struggling at every release. Today we saw EU PMI numbers and they were less than expected and quite rightly limited any early enthusiasm. The broad Russell made more headway gaining +0.7% with NASDAQ at +0.4%; DOW and S+P pretty much unchanged.
Japan 0.04%, US 2's closed 2.49% (-2bp), 10's 2.93% (-1bp), 30's 3.08% (u/c), Bunds 0.36% (-5bp) Talk of additional Bund QE, France 0.69% (-3bp), Italy 2.76% (+26bp), Greece 4.45% (+6bp), Turkey 14.66% (+34bp), Portugal 1.80% (+8bp), Spain 1.37% (+6bp) and Gilts 1.28% (-1bp).