Blog/Market Talk
Posted Jun 30, 2017 by Martin Armstrong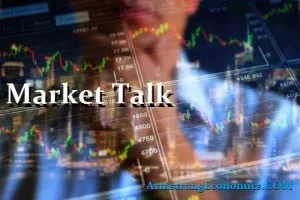 Following a weak US session, Asia fell in sympathy with US prices then levelled as China's core held in well, especially as PBOC set the YUAN rate at 6.7744 – the highest in a while. China's Manufacturing data helped Shanghai but the core large cap's suffered as the Hang Seng lost -0.8%. Japan's CPI and Manufacturing did not help the Nikkei and that closed -0.9% as the JPY remained with a 112 handle indicating that maybe the "normal" flight to safety
may be in the process of change. ASX fell on mineral, commodity and ASX bounce to close the day down 1.66% not a great day to finish the month.
Europe followed-on from late US selling and Asia's weakness and saw all indices down around -0.7%. DAX, CAC and IBEX all fell on Tech, Chemical, Retailers and even Financials towards the end of the day – suddenly concerned about rate increases. Lot of talk around Qatar and subsequent currency trades with speculation that some British banks are reluctant to play in the forwards market. Following todays market close the monthly performance looks to be around a negative 2% return.
Although the US opened weaker by the end of the day the core DOW and broader S+P both managed a positive close of +0.3%. The NASDAQ did not manage a positive close but considering it has been leading the charge lower, todays performance was quite encouraging – especially for the H1 end. Fixed-Income markets continued the grind to higher yields and with curve steepening marginally aiding bank support.
2's closed 1.38% (+1bp), 10's 2.30% (+4bp), 30's 2.83% (+2bp), Bunds 0.46% (+1bp), which closes the US /Germany spread at +178bp (+1bp). France 0.81% (+1bp), Italy 2.14% (u/c). Greece 5.30% (u/c), Turkey 10.25% (-5bp), Portugal 3% (+2bp), Gilts 1.25% (u/c).