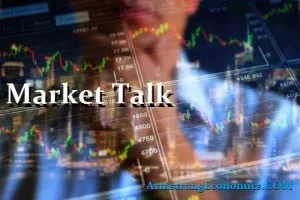 Tech shares continued to suffer in Asia but failed to influence the wider markets, but by the close even they had turned positive. Having been closed yesterday, today we saw a healthy run in the ASX (+1.67%) after the report that Business Confidence for May released better than expected. Banks led the rally with CBA, West Pac and NBA all gaining close to 3%. The Nikkei was the only core indices to record a loss but that at only -0.05%, as the JPY trades weaker in the 110.25 region. China had a steady return for most of the day closing better by +0.5% both for Shanghai and Hang Seng. Asia was happy to reflect a steady close as we approach the start of the two day meeting of the Federal Reserve.
In Europe the talk was much around the UK's political situation and the likelihood of a "soft" or "hard" BREXIT – whatever those terms actually imply! The GBP reversed yesterdays losses closing the European session up by +0.6% with this being at the detriment of the FTSE which closed marginally lower at -0.2%. The currency was helped by the release of stronger UK CPI at +2.9%, the best in almost four years. The DAX, CAC and IBEX also had reasonably strong performances ahead of the FED's announcement, but the returns were credited more around BREXIT talks and Europe's "stronger" hand than the likelihood of FED reactions. Talk is that BREXIT negotiations will start next week but even then markets will still be reacting minute by minute headlines that may appear on your screens.
Following the tech bounce in todays trading we saw record highs hit in the DOW. Unchanged economic data really had little direct impact on todays market but the bounce in tech stocks were warmly welcomed. We have seen a broad based rally in todays market which looks to be a common performance the day ahead of the FED announcement. More talk surrounding Dodd-Frank and the easing of regulatory requirements for regional banks has certainly provided a helping hand for those quotes. At the close we are around contract highs for the DOW and S+P, but remain slightly below for NASDAQ. Tomorrow morning we see release of Retail Sales and CPI ahead of FED announcement.
2's closed 1.36% (+1bp), 10's 2.21% (u/c), 30's 2.86% (-1bp), Bunds 0.26% (+1bp) which closes the US/Germany spread at +195bp (-1bp). France 0.6% (+1bp), Italy 1.96% (-4bp), Greece 5.71%, Turkey 10.32% (+15bp), Portugal 2.90% (-6bp), Spain 1.41% (-1bp) and UK Gilts 1.03% (+7bp).