Blog/Uncategorized
Posted Jul 10, 2017 by Martin Armstrong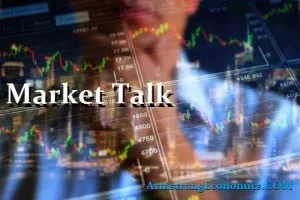 We start the week with mixed session from Asia as Chinese reserve data showed small increase and the general trend of acceptance for Chinese 5% growth. The Japanese yen continued its decline breaching 114 and even in late US trading had was last seen around the 114.25 level. The Nikkei edged better but a small move having seen Europe's improvement.
The German data was the talk of most European dealers after we saw Trade data outperform expectations. Exports increased 1.4% to almost 108bn, an over 14% improvement for the month of May. The major discussions points coming from the G20 was rumoured to be Angela Merkel's disappointment from the lack of collusion on climate accord and then President Trumps face to face with President Putin with cyber-security a hot topic. All European core traded better with the German DAX the better of the bunch closing +0.5% firmer on the day.
US traded better with NASDAQ leading the bounce. A refreshing turn after Fridays wild ride with many hoping this is the start of another bull run. Amazon shares were up almost 2% which helped the NASDAQ outperform. Tech sector continues to be the best performer for US indices this year, with a 17% return YTD. All in all a quiet session today but we have plenty to look forward to later in the week. We have Retail Sales and Inflation numbers later with FED Chair Janet Yellen addressing Congress Wednesday and Thursday. This will be keenly watched by the Bond Market with clues of both direction and the curve eagerly awaited.
2's closed 1.39% (-1bp), 10's at 2.38% (u/c), 30's 2.93% (+3bp), Bunds 0.54%(-2bp) closes the spread +184bp(+3bp). France 0.9% (-1bp), Itlay 2.26% (+1bp), Greece 5.28% (+3bp), Turkey 10.51% (-3bp), Portugal 3.07% (+6bp) and UK Gilts 1.27% (-4bp).
2's closed 1.40% (+1bp), 10's 2.38% (+1bp), 30's 2.90% (+5bp), Bunds 0.56% (+9bp) closes the US/Germany spread at +181bp, France 0.91% (+10bp), Italy 2.25% (+11bp), Greece 5.25% (-1bp), Turkey 10.54% (+7bp), Portugal 3.01% (+8bp) and UK Gilts 1.31% (+5bp).