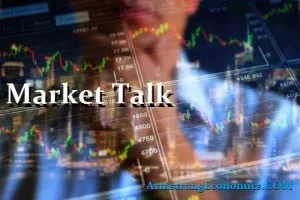 The biggest conversational topic today was the recent USD bounce, as well as the oil price decline. Japans Nikkei held-in as the nervousness returned, but it was the JPY trading back close to 111 that had people talking. Given the US Retail Sales number was so above expectation the market now assumes the FED are more certain to be back in play. People now have to question are rate increases a positive sign for stocks once again! The DXY was above 94.1 overnight which will attract a lot of attention if this continues (which looks likely). The Hang Seng and KOPSI were the best performers overnight rallying around +0.75% in confident trading (China helped by the positive IMF note). We do have FED minutes later today so lets see how futures behave upon release.
It appears that both Asia and Europe responded more positively to better US data than the US itself did! This morning we saw encouraging European price action but were also aided by a better than expected GDP release (2.2%). Industrials and energy suppliers were the best of the leaders but that could be a different story tomorrow after we saw a late sell-off in oil prices mid US afternoon. Interesting that Qatar is liquidating some core holdings as rumours of a sale of a piece of the stake it held in Credit Suisse circulates. Also worthy of note is that banks suffered again (Deutsche Bank -0.8%; BNP Paribas 0.2%) especially as talks of US potentially splitting the investment banking divisions!
Oil inventories were a reason we turned negative as we broke $47 and continued to decline, last seen -1.7% on the day. Bonds were weaker (higher yield) but then turned after the rumours that Mario Draghi will not speak on QE at the Jackson Hole meeting with rumours given that it is too close to the German election. This seemed to hit confidence in both the Euro and stocks which is why we saw treasuries rally into the close. This news also coincided with a President Trump tweet that he was ending both the Manufacturing Council and Policy Forum. Upon the FED minute release we did add to the stock rally but then started to drift back as we approached the close. All this uncertainty helped the bid for gold which rallied around $10 and was last seen $1284.
2's closed 1.33% (-2bp), 10's at 2.23% (-4bp), 30's 2.81% (-3bp), Bunds 0.44% (+1bp) which closes the spread at +179bp (-5bp). France 0.74% (+2bp), Italy 2.03% (-1bp), Greece 5.47% (u/c), Turkey 10.54% (-4bp), Portugal 2.77% (-1bp) and UK Gilts 1.10% (+2bp).