Blog/Market Talk
Posted Apr 26, 2018 by Martin Armstrong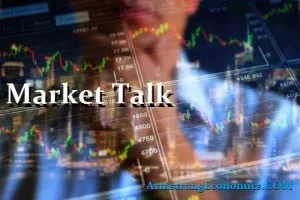 It was China's market that took the hit today with both mainland Shanghai and the Hang Seng declining over 1%. It was tech that lead sentiment lower again today following rumours of US probing Huawei Technologies and that spread to the sector. These concerns appeared to be confined to China, although the financials and property sectors were also heavy. However, other markets preformed quite well today so appears isolated. The Nikkei managed a +0.5% gain but then the Yen does look comfortable playing now in the mid 109's. Again, with the currency decline so exporters perform. In India the SENSEX IT sector actually was the market leader today. Making some strong 2%+ gains helped sentiment but also joined by some bank names who's earnings surprised to the up side (Yes Bank). The INR saw the consolidation expected before its next move towards 67 handle.
Europe was a buzz with Deutsche Bank results after they reported a 79% decline in Q1 net profits. They also announced huge cutbacks in its investment banking division on what is probably a concern over capital expenditure. DB shares are off almost 25% YTD. Having digested this we were ready for the ECB and the effects that would project. A unchanged rate it was always going to be down to the Q+A session following. Not much to highlight other than still steady as she goes and so the market continues to punish the currency. Not really a surprise given the continued widening of the yield differential between the US and Europe.
Strong earnings in the US helped prices recover ahead of the weekend. Facebook shares climbed nearly 10% having beaten expectations and a positive outlook. Further strong numbers from AMD and Chipotle helped confidence and even lifted Amazon over 4% with its earnings release after todays close. Tomorrow we can look forward to US GDP and the 2.5% expectation. Down from the previous 2.9% this could set the trend for the foreseeable future and especially if we get a strong number. The DXY has already been showing signs of a longer term recovery and a decent number tomorrow will set the stage for more of the same.
Japan 0.06%, US 2's closed 2.49% (+1bp), 10's 3% (-2.5bp), 30's 3.18% (-3bp), Bunds 0.59% (-4bp), France 0.81% (-4bp), Italy 1.74% (-3bp), Greece 3.90% (-4bp), Turkey 12.26% ()-1bp), Portugal 1.66% (-3bp), Spain 1.25% (-4bp) and Gilts 1.50% (-4bp).