Blog/Market Talk
Posted Apr 25, 2018 by Martin Armstrong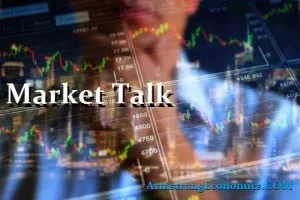 When you consider the DOW was off 550 points you would have expected significantly more weakness in Asia, but that was not to be! With 15mins trading time to go we saw the DOW bounce 10 points a minute to close off 400 and that almost gives you the kind of liquidity the markets are having to deal with recently. A large order takes not just time and patience but can see the market simply run away from you without volume going through. Only a minor decline for the Nikkei (-0.3%) having seen the index lows hit early and the rest of the day spent trying to recover. The Yen remains weak as it broke the 109 level and has not looked back. Losing around 0.5% today the currency looks to be heading for the psychological 110 handle by the weekend. Shanghai held in better than Hang Seng (-0.4% and -1% respectively), with tech again leading the way down. The USD is impacting emerging markets as well as the more talked DXY index. The INR returned to its declining trend today, with the 67 handle now the target. ASX and NZ both closed for national holidays. However, the A$ is suffering with other commodity currencies as it hit 0.755, its lowest in six months. Support looks to be the 0.75 area and a break of this will target June 2017 prices.
Interesting that the rise in US bond yields appears to be having more of an impact on Europe than US markets! As the US 10's trade 3.03% the dollar rally accelerates, European equity markets trade heavy and yet the apparent big buyer continues to build their collection. Core indices were off between -0.6% and 1% with peripherals also succumbing to the pressure. Capital flow is finding its way into US markets as treasury curve steepens. UK Prime Minister, Theresa May, suffered another defeat in the house over BREXIT plans. This is still the rift between the "Remainers" as they are being termed and the actual leave vote. Still time for this to provide yet more volatility and make no mistake – it surely will. Trend remains weaker GBP against USD. Turkish Lira bounced 1% today after the central bank raised rates 75bp to 13.5% in an attempt to stem recent inflation trend.
Despite better than expected earnings, we have again seen a muted response again today but probably because the outlooks have been disappointing. Early losses were reversed and even pushed to 150 point gain, only to close with a small 60 point gain. Momentum is slowing but is being helped by the new rise in the dollar. Yields pushing higher is the struggle stocks are having to deal with.
Japan 0.05%, US 2's closed 2.48% (+1bp), 10's closed 3.025% (+3bp), 30's 3.21% (+4bp), Bunds 0.63% (-1bp), France 0.85% (+1bp), Italy 1.77% (+1bp), Greece 3.94% (-1bp), Turkey 12.27% (-3bp), Portugal 1.69% (+4bp), Spain 1.29% (+1bp), and Gilts 1.54% (u/c).