Blog/Uncategorized
Posted Jan 8, 2016 by Martin Armstrong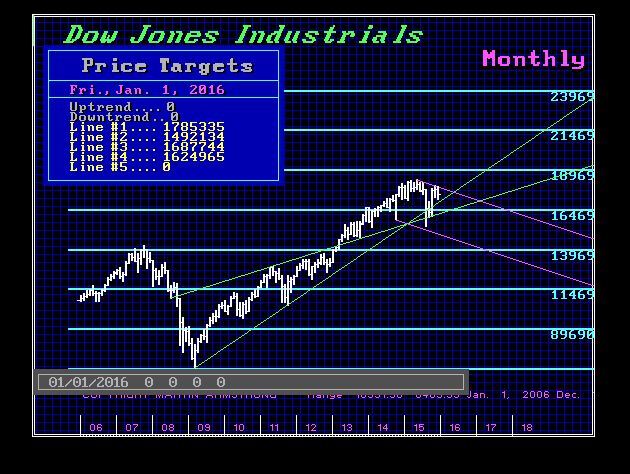 Back on November 13, 2015, we reported: "The Dow is pulling back on schedule. We do not see a breakout to the upside. This should tread water for a bit, waiting for everything to align. A closing today below 17785 will signal that this is not ready to breakout and a retest of support is likely. Key support lies down at 16500." We have breached that support level now, which brings our focus to the 15900-16100 area.
Here is the Weekly Array we published back then. Note that this past week of January 4 showed a Panic Cycle even back in November 2015. Next week is highlighted as the turning point, and we have a Directional Change coming into play next week as well.
The initial support at 16500 has given way and we Elected a Weekly Bearish Reversal today. That report was written just after the November high was made. We elected the first Weekly Bearish at that time, which signaled a test of the next would unfold. Now we are focusing on the monthly support, and if that gives way then we will likely see the slingshot move unfold.
A slingshot differs from a Phase Transition whereas the former you go down FIRST and then swing around and make new highs. This was accomplished from the 2007 top, the 1998 high, as well as in 1987. A Phase Transition is simply an explosion to the upside, which typically lasts, at most, two years or about 13 months.
Keep in mind that the MAJORITY must be wrong — ALWAYS. That is the very fuel that drives the markets. The best we have are the Reversals and the Arrays. Opinion fills the air, but opinion is not a forecast. The market will tell us what we face now. Next week is likely to see a lower low for it is the timing target and the Directional Change.
The November high implies a decline for the First Quarter. Everything will hinge now on the Monthly Bearish Reversals. The Global Market Watch finished the year also warning that we had a temporary high. The year-end closing was LOWER and it even closed below the OPEN of 2015. These were warning signs that we would retest support BEFORE making any new highs.