Blog/Socrates
Posted Jan 1, 2017 by Martin Armstrong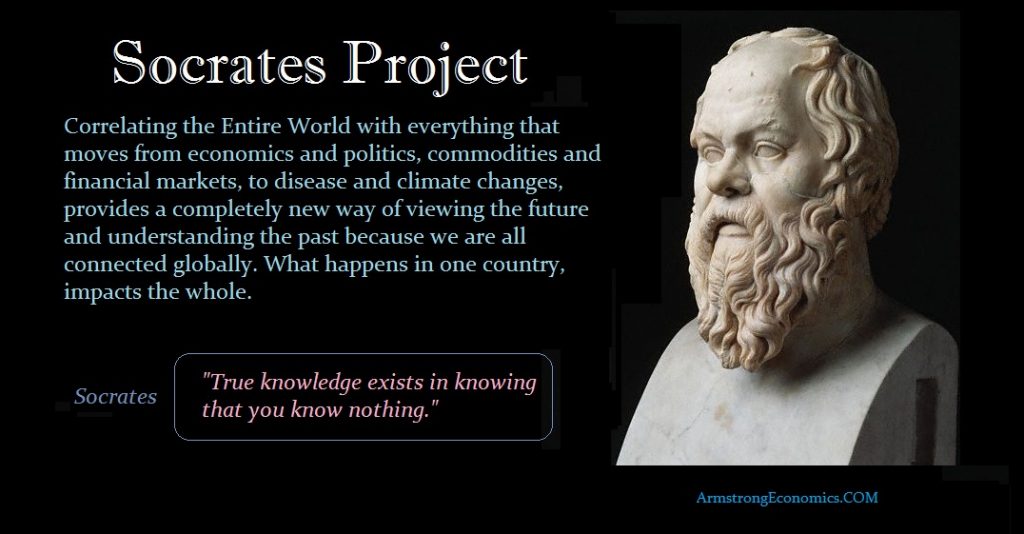 COMMENT: Mr. Armstrong; What you have forecast in so many different fields has been a remarkable achievement. It is now quite evident why the government has tried to stop you all these years. I thank God he gave you the strength to see this through. The stock market rising, gold consolidating, Trump and Brexit victories, to climate change with frozen sharks washing up on shore;  it is obvious to all you really are trying to pay it forward.
Godspeed for the New Year.
KL
REPLY: We are all given a role in life called our destiny. It has been my curiosity in trying to figure out what makes this whole thing tick that brought me to a new understanding. I thank my clients around the world, for they have opened my eyes and compelled me to see the world from everyone's point of view. That experience is the foundation of the Socrates Project.
Yes, I am closer to the end of this journey we call life than embarking on my first step. So to that end, it is something I do need to pass on. It would be a terrible crime against humanity to allow those who manipulate the courts in New York City and the offices of the government to suppress what I have bumped into. I am fully aware there are those in New York City who pray at night for my early death. They are conviving right now to infiltrate the Trump Administration and manipulate Europe.
So it is a race against time, but I have no regrets. This is something I hope the world will one day look at and see a new beginning of living with the cycle rather than raging against nature and the new light of day.
Happy New Year to All