Blog/Reports and DVDs
Posted Jan 8, 2020 by Martin Armstrong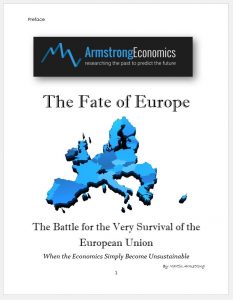 This is a special report entitled "The Fate of Europe" which dives into the shocking reality behind the curtain of the Euro and why it has failed to become a major reserve currency. The Fate of Europe is a very important report to understand the backdrop to what we face going forward and the risks both for European readers as well as for the rest of the world in light of the risks of global contagions. Like the Great Depression, the crisis we face will begin in Europe once again and spread like a contagion eventually engulfing the world economy.
Nigel Farage delivered the keynote speech at the Rome WEC. He called the World Economic Conferences we have been holding since 1985 – the "alternative to Davos." This report is unique for two reasons. First, when the Euro was being formed, the commission attended our WEC in London in 1997. I discussed directly on how the create the euro from scratch. We published detailed recommendations back then.
This report exposes the reality behind the curtain. The entire design of the EU is to deliberately deny any right of the people to ever vote on their own future. The politicians have assumed that the people are TOO STUPID to know what is best for them. In fact, Germany, the foundation of the entire European economy, was NEVER given the right to vote to join the Euro. Chancellor Kohl admitted that he acted as a dictator because he said if he ever allowed the German people to vote, he would have lost 7 to 3.
This report is essential to understand the risks in Europe. Most people have no clue because the second reason this report is unique is that no European analyst working in any of big financial institutions are ever allowed to criticize the EU or speak negatively about the Euro.