Blog/Technology
Posted Feb 4, 2022 by Martin Armstrong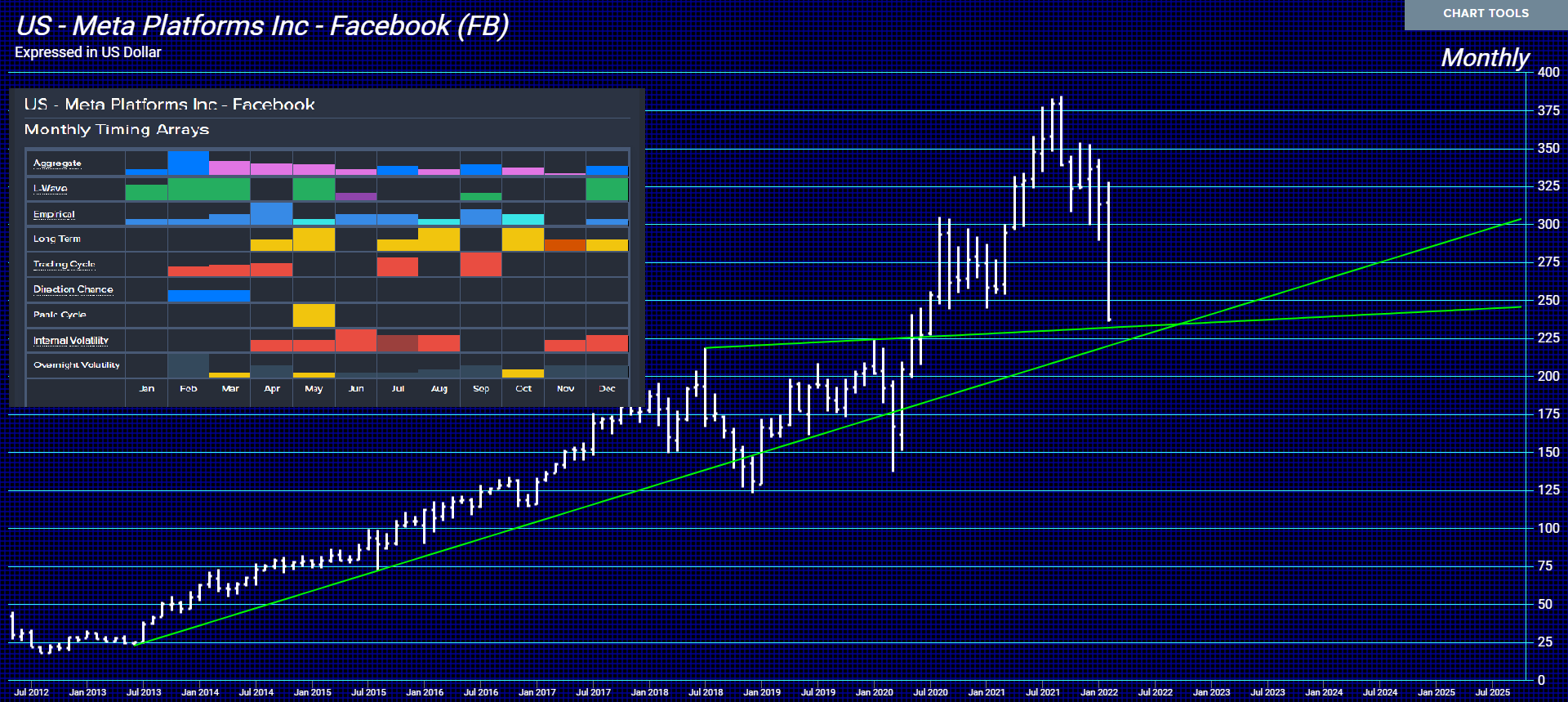 QUESTION: Marty you said that Facebook would peak in September 2021. Is this the high you were talking about? Has it entered a bear market?
WJ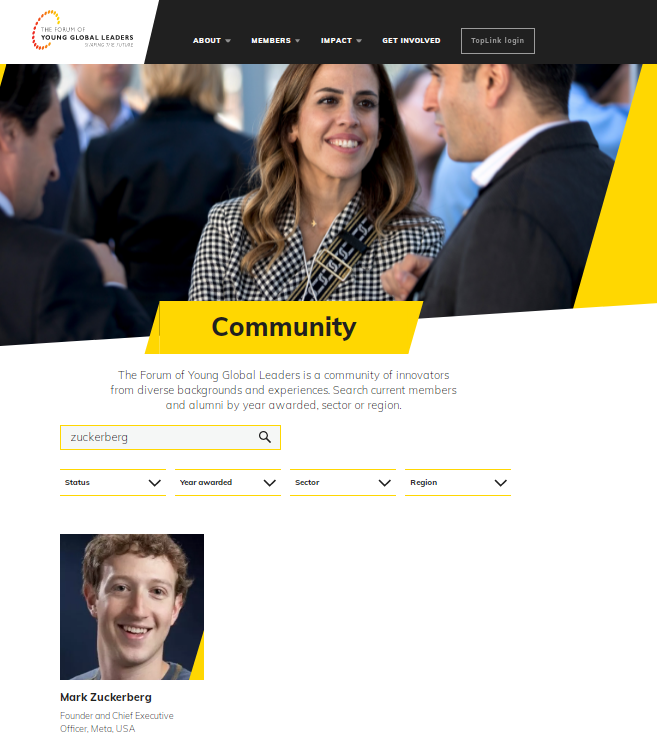 ANSWER: This is the 19th year up for Facebook and this crash has already penetrated the 2021 low of 244.61 here in 2022. Zuckerberg is part of Schwab's World Economic Forum Young Global Leaders along with Trudeau in Canada and Jacinda Ardern of New Zealand. He has been aggressive in censoring anyone who has opposed the narrative of COVID and this is all collapsing around him. Facebook lost daily users for the first time in its history. This is a significant change in trend which has come right on target. In Canada, people are flooding the 911 system reporting that Trudeau is missing. We may see the same eventually with Zuckerberg. Perhaps he will fleet and hide under the coat of Schab at the WEF.
Allegations are surfacing claiming that ballot boxes put out there by Zuckerberg were being used to rig the election. It is still unknown how much fraud was carried out in the 2020 election. But the narrative needs to end that the answer is "none." Despite the widespread blanket denials from the mainstream media, there are allegations bubbling up about 'mules' illicitly dumping ballots into Zuckerberg "drop boxes." Unfortunately, with the Democrats in charge of the Senate and the House, there will be no investigation. But the whispers are getting louder that Zuckerberg allegedly had a hand in the election fraud perhaps at the direction of Schwab and associates. Zuckerberg spent $419 million to get out the Democratic votes to defeat Trump which was the clear agenda of Schwab and his World Economic Forum.
It is true that TikTok has emerged as a major threat to Facebook because it is not engaged in the political activism that Zuckerberg has been. People are leaving Facebook or using TikTok much more so because of Facebook's censoring. Then there is Apple, and its privacy changes to iOS last year are starting to cost the company tons of ad revenue. The feature is called App Tracking Transparency and allows iPhone users to forbid companies from tracking them across third-party apps. As CNBC reports, on the financial call, Meta CFO Dave Wehner revealed, "We believe the impact of iOS overall is a headwind on our business in 2022. It's on the order of $10 billion, so it's a pretty significant headwind for our business."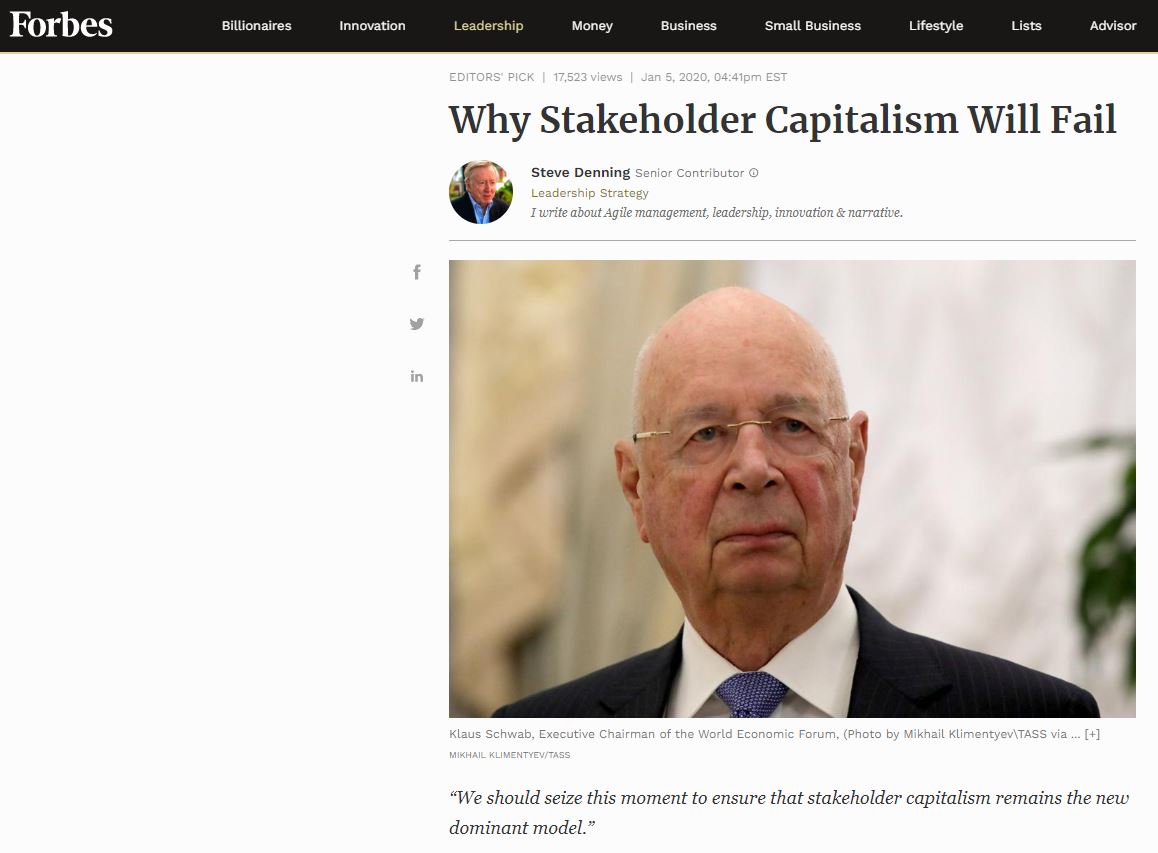 There is much more behind the headlines that are in the rumor mills. Zuckerberg has a lot to worry about by aligning with the World Economic Forum should the cycle change once again and the Republicans win in November. Zuckerberg may find himself in deep trouble and the survival of Facebook will hang in the balance. His loyalty to Schwab and his idea that corporations should disregard shareholders and be concerned with Stakeholder Economics may prove to be the death of Facebook. Any CEO who aligns himself with Schwab should be thrown out by the shareholders for that means they are using shareholder money to further a foreign agenda against their own self-interest.
A year-end closing below 244 will confirm that Facebook will enter a bear market and the crash will continue into 2023 for starters.