Blog/Technology
Posted Sep 9, 2022 by Martin Armstrong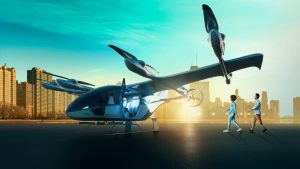 Technological advancements are quite an amazing achievement. Although I never thought I'd see them in my lifetime, electric air taxis may become commonplace in the not-so-distant future. United Airlines announced that they are investing in air taxis from Eve Air Mobility and have already purchased 200 four-seat electric aircrafts. Eve, which was listed on the NYSE in May, will receive an additional $15 million investment from United. Flying taxis or eVTOLs (electric vertical take-off and landing vehicles) are designed for short commuter trips.
United also purchased 100 electric aircrafts from Archer Aviation. They expect the first shipments to arrive in 2026. Airlines Ventures President Michael Leskinen projects that a one-way trip to the airport would cost between $100 to $150, but these air taxis only have a range of 60 miles. This is a workaround to abide by the coming zero carbon emission laws but certainly will not be a replacement for affordable public transportation that many in the working class rely on.
Much is unknown about this new technology. Eve plans to hold a simulation later in the week in Chicago to study how eVTOLs will function in an urban environment. It is always refreshing to see technological advancement as innovation paves the way for opportunity.