Blog/Stock Indicies
Posted May 3, 2021 by Martin Armstrong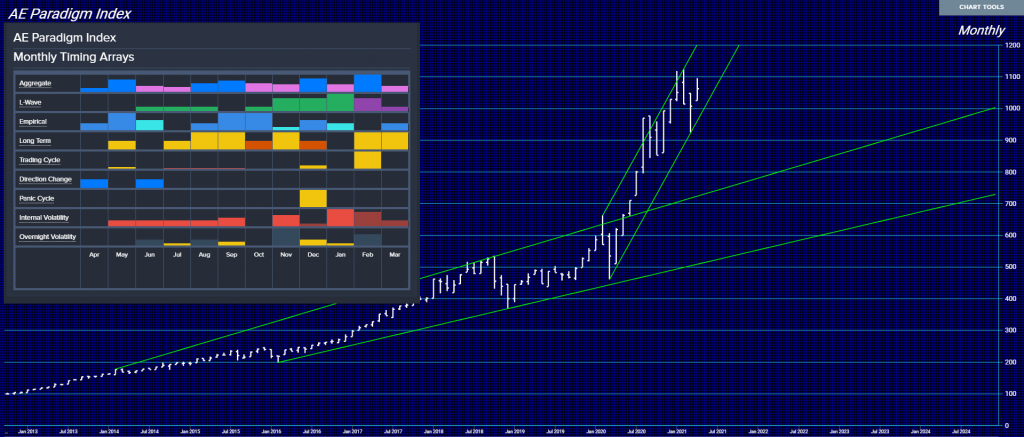 The fundamental shift within the economy due to COVID has been unfolding and is illustrated by just looking at the earnings of AMAZON which finished 2020 with $21.3 billion in net income, making it one of the most profitable companies in the world, and in the first quarter of this year, the company posted a bottom-line result of $8.1 billion, setting a new quarterly record. Our Paradigm Index has been tracking this shift in the economy and it made a knee-jerk low in March and then the April Directional Change turning it back up.
More and more business is shifting to the online world and as this happens, local small businesses suffer which is not good for employment. The financial press seems to be no different from the mainstream press selling stories that the market will be all good because of the steady COVID-19 vaccination programs that will magically return the world economy back to normal. They seem to be covertly selling propaganda just as the far left press.
In Europe, bank stocks were the best performers of late as Standard Chartered produced strong earnings reports as did HSBC and Santander. The banks benefited from the rise in Eurozone bond yields after U.S. economic growth and German inflation data came in higher than expected. Amazingly, they then sell the story that this is strengthening the case for a reduction in central bank stimulus. They seem to ignore the fact that this rise in yields puts pressure on other European sectors, within the share markets. The travel and leisure stocks started to decline as optimism that this return to normal will somehow materialize.
Automobile stocks posted losses and Ford dropped 2.6% as the shortage in global semiconductor chips is reducing production which is really being cheered by the environmentalists who seem to control the governments these days. Meanwhile, the economy showing the best prospects long-term remains that of China.