Blog/Dow Jones
Posted Mar 1, 2016 by Martin Armstrong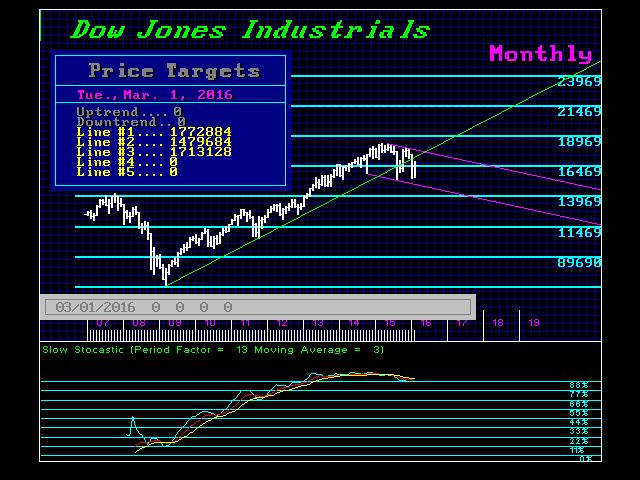 We did not elect any bullish reversals. March remains our Directional Change target and the Dow could not close above 16934 for February. Looking ahead, we see the weeks of 03/14 and 03/23 (array posted on the private blog for the Investor level). We have also not elected any Weekly Bullish Reversals. The 17000 level remains as resistance. There is still no indication that the market is yet out of the risk of new lows under that of 2015.
When we look at the S&P 500, here we see that a February low was on target. This implies the next key turning point should be May. Looking at the weekly level, we see 03/14 and 03/18 as key target weeks with a Directional Change the first week of April.
We have a divergence between the Dow and the S&P 500. This may be resolved with new lows if we do not begin to elect bullish reversals above. The overall shift appears to be unfolding in June. This does line up with BREXIT referendum. If the vote is rigged and Britain remains in the EU, we could see a last rally for the euro before this currency breaks hard to the downside.
There is no breakout to the upside at this time. Such a pattern appears to be set more for 2017 moving into 2020. Without electing some Monthly Bullish Reversals, it will be hard to see a justified and sustainable rally.