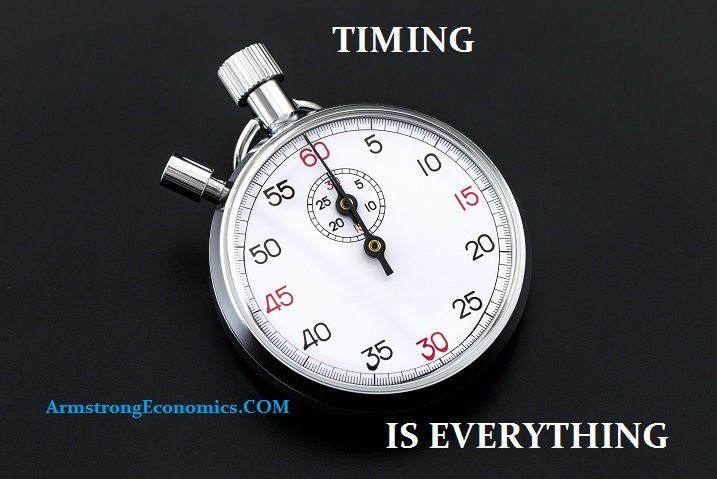 QUESTION: Mr. Armstrong; I understand at the WEC you told the audience the stock market would correct sharply into January/February. For those of us who could not afford to attend a WEC, are we to expect the slingshot you have been warning should take place?
Thank you;
HP
ANSWER: Yes. Timing is absolutely everything. DO NOT ANTICIPATE anything. Time is more important than price. But we also act on the reversals in conjunction with time. We have people already declaring this is a bear market. Many may not even be old enough to have traded a bear market. Let me explain one thing. We are NOT dealing with a bear market. We are dealing with a period where we must set up everything for what is to come. I have been warning that normally after an 8-year bull market, there is traditionally a correction.
The final prognosticate on time will arrive with this year's closing. We need the year-end closings and the computer will then forecast what is to come between now and the end of this cycle wave in January 2020.
How we approach this will be critical. Nonetheless, we have a lot on the horizon. Besides BREXIT in March, we then have the May elections for the EU. The number of people who may be elected that are actually anti-EU is likely to rise. The European election will be as chaotic and we expect the Democrats to make the entire world economy unstable as they make a lot of noise in hopes of driving Trump from office in 2020.
The market will have to absorb a lot of political turmoil in 2019 and we are witnessing the rise of tensions on a grand scale.
We will have the 2019 Outlook Report out in January. We are trying to finalize the contracts for a European WEC in Rome during the first week of May. We will let everything know when that is confirmed.