Blog/Dow Jones
Posted Jul 17, 2017 by Martin Armstrong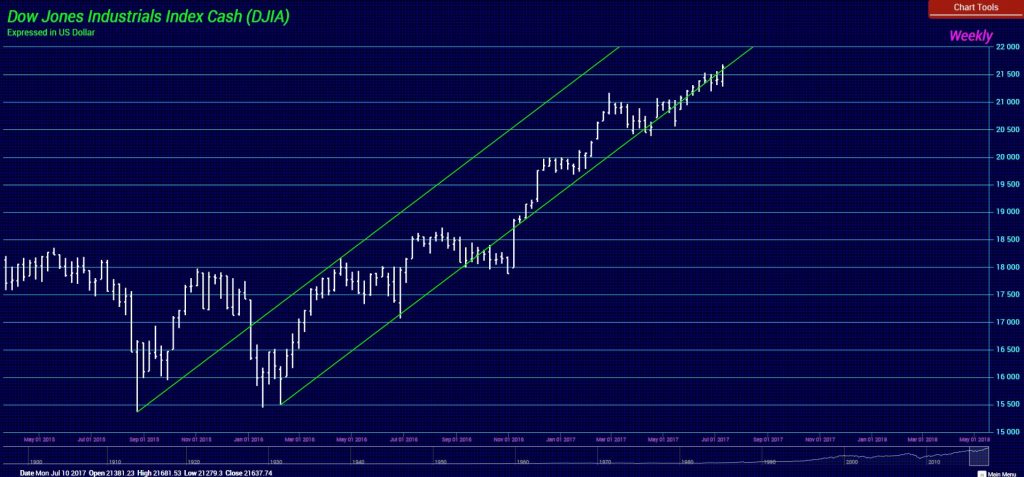 We are getting close to unleashing Socrates. The hold up has been in the delivery rather than in the analysis. We have had some problem with pushing the results up to the cloud, which we hope to solve. The Pro version wrote this as of Friday concerning the Dow Jones Industrial Index. Note that while we are making new highs, we are losing momentum and breaching the bottom of the Breakout Channel. The support has been rising sharply so caution is now warranted. Note also beware the week of 07/24.
ANALYSIS UPDATED AS OF THE CLOSE OF  Fri. Jul. 14, 2017: This market has been making a new historical high this month on Fri. 14th at 2168153. Closing support on a weekly basis now lies at 2133300. A weekly closing below this level will signal a short-term correction is beginning. From a technical trading risk perspective, long positions should be exited if this level is broken on a weekly closing basis.
From the view of a position trading perspective, the market has exceeded the previous high made back in June at 2153503 reaching 2168153. So far we have a very dramatic event exceeding last year's high of 1998763. The technical resistance stands at 2172761 with technical support resting at 2148041 and 2100653. Any long position should use a protective sell stop on a monthly closing basis at 2055344. Remember this is just a trading suggestion given it is merely a trading observation rule. Buy or sell signals take place on Reversals and Cycles.