The Dow Jones took out the Weekly Bullish but not the key one at 17846. This is why we are basing without immediate follow-through. Nonetheless, our primary technical targets for the year stand at 17345, 18791 and 18880. Holding the 17345 level warns that we are still move to the upside. A weekly closing above 17846 will signal a retest of the major highs and the potential to make a new high even yet. We can see that from the chart above that the technical support on the weekly level rests at the 17619 area. Holding this is warning that further upside is likely. Keep in mind that BECAUSE we made the new lows in the NASDAQ and in the S&P500 but not the Dow, demonstrates what we have been warning about that this is still a capital inflow for the USA.
The negative interest rates are creating a real crisis. This was the real reason why Yellen met at the White House. We are moving toward the realization that the central banks have created an impossible situation from which there is no escape. Keeping lower interest rates because all levels of government are hopelessly in debt is wiping out the pension funds.
From a timing perspective, we still see the key weeks ahead as 04/25 and 05/09 with volatility picking up in May and then we have a Directional Change cluster in June near the BREXIT vote. Keep in mind that many in Europe and praying Britain votes to exit for they see this as the catalyst for the demise of the EU.
We see a similar pattern for a breakout on the monthly level with 17666 and support closing in at 17258. Even the oscillator is starting to show a potential breakout to the upside. Keep in mind that the major Phase Transition move is probably not yet ready until 2018. But this is looking highly probably at this point in time.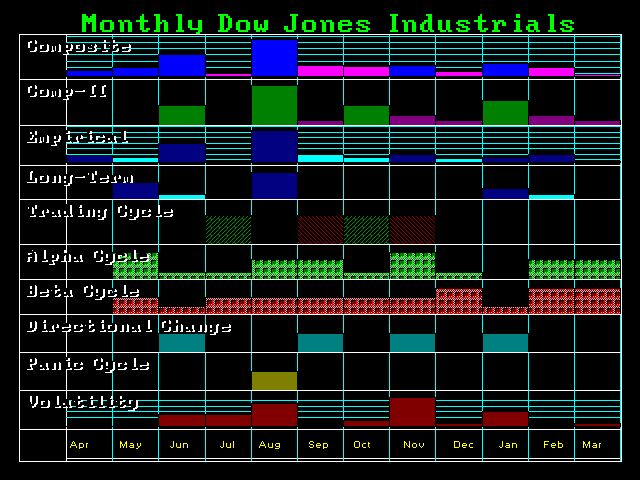 The timing clearly is showing June and August as key targets for now. This is centered around the BREXIT vote in June and the Republican Convention at the end of July. Directional changes are warning of a choppy affair until the first quarter next year.
Keep in mind that this is the most pessimistic rally in history with the highest short-interest. This is why the market keeps pushing higher, yet slowly. It is eating through the pessimistic analysis and when rates begin to rise, there will be another wave a selling trapping the bears latter in the year.
The Daily Bearish lies at 17434 and the Weekly Bearish lies at 16820. So as long as these two Reversals hold, then the basing at higher levels is being maintained.