Blog/Dow Jones
Posted Feb 6, 2018 by Martin Armstrong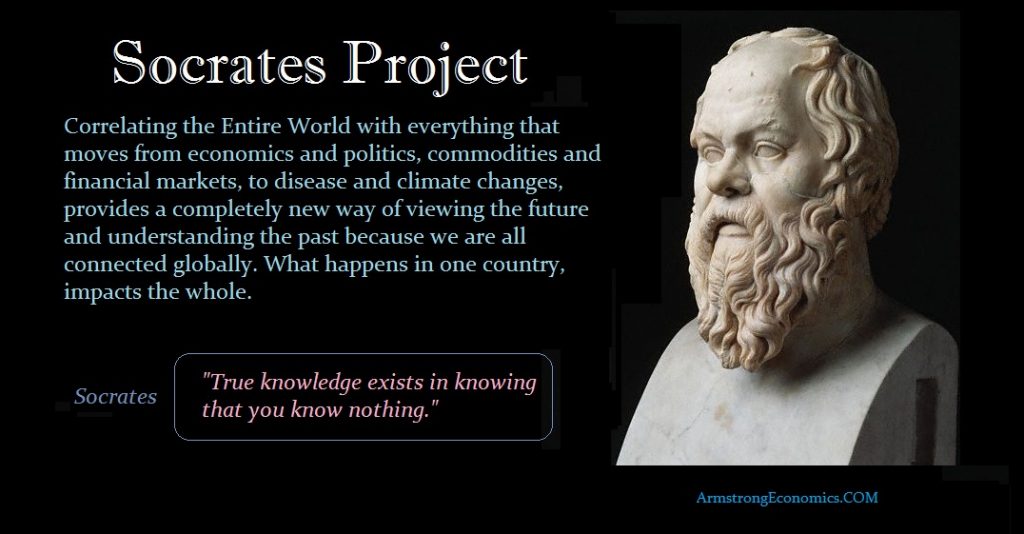 Socrates Analysis for the Dow Jones as of Last Friday – February 2nd, 2018
---
SOCRATES SUMMARY ANALYSIS
THE ANALYSIS PERSPECTIVE AS OF THE CLOSE OF Fri. Feb. 2, 2018: Dow Jones Industrials closed today at 2552096 and is trading up about 3.24% for the year from last year's closing of 2471922. Thus far, we have been trading down for the past 5 days, while we have made a low at 2549066 following the high established Fri. Jan. 26, 2018, this price action warns of at least a pause in trend if not a retest of key support. Only a close above 2606180 would imply a retest of the previous high. Employing our Reversal System, our next Weekly Bullish Reversal to watch stands at 2581044 while the Weekly Bearish Reversal lies at 2474160. This provides a 4.14% trading range. Turning to the broader Monthly level, the current Bullish Reversal stands at 3081752 while the Bearish Reversal lies at 2241590. This, of course, gives us a broader trading range of a 27%.
The last event was a low established during 2009, which has been a nine year rally from that low to date.
A possible change in trend appears due come this month in Dow Jones Industrials so be focused. Last month produced a high at 2661671 and so far, we are trading neutral within last month's trading range of 2661671 to 2474170. We need to breakout of this range to confirm the direction. Therefore, a close above will be bullish and a close below will warn of a possible decline.
Observing the near-term level, the market has closed up 282.0% from the last cycle low established during 2009, which has been only a 8 year rally from that event. However, from the long-term perspective, the market has still closed on the Yearly level up 4236.7% from the strategic low established during 1974, which has been a 43 year rally from that key event.
Our Daily level momentum and trend indicators are both bearish reflecting resistance forming at 2608612. Turning to the broader picture, our long-term trend is bearish while the cyclical strength indicator is bullish providing a mixed perspective of the market beyond the short-term.
On the weekly level, the last important high was established the week of January 22nd at 2661671, which was up 64 weeks from the low made back during the week of October 31st of 2016. We have seen the market drop shaply for the past week penetrating the previous week's low and it closed beneath that low which was 2597465. This was a very bearish technical indicator warning that we have a shift in the immediate trend. We are still trading neutral on the Weekly Momentum Indicators and this is a warning that initial support has been breached. This strongly implies we should pay close attention now to the Weekly Bearish Reversals. If we begin to elect Weekly Bearish Reversals, then we are dealing with a more sustainable near-term correction.
Overall, looking at the weekly level on our models, this market is currently in a rising trend. We see here the trend has been moving up for the past 65 weeks. The last weekly level low was 1788356, which formed during the week of October 31st. The last high on the weekly level was 2661671, which was created during the week of January 22nd.
Critical support still underlies this market at 2241590 and a break of that level on a monthly closing basis would warn of a decline ahead becomes possible. On a broader perspective, this market remains in an uptrend posture on all our indicators looking at the monthly level. We see here the trend has been moving up for the past 29 months. The last monthly level low was 1537033, which formed during August 2015, and only a break of 2392190 would signal weakness ahead. The last high on the monthly level was 2661671, which was created during January.
Register for Blog Update Alerts