Blog/Dow Jones
Posted Sep 22, 2017 by Martin Armstrong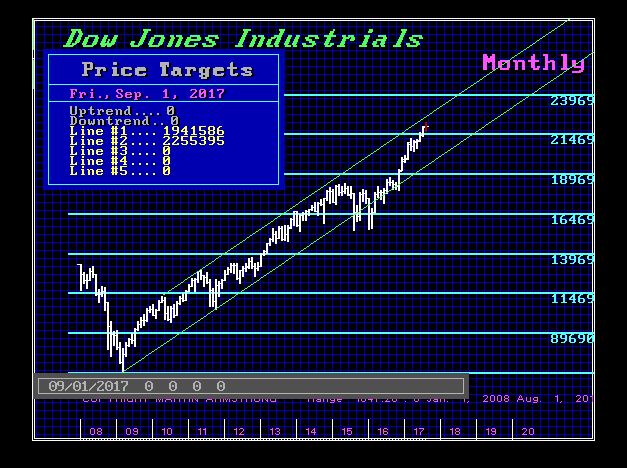 QUESTION: Hi Martin,
I am confused with the Dow Jones Index, could the index explode up through 23,000 to 40,000 from here or does there need a downward move then explode up through 23,00 (a sling shot).  Could you tell us what you see for the next 6 to 9 months.  Probably the most important investment for us all!
Thank you for all your help!
KC
ANSWER: The cycle is in the basing mode. Therefore, it need not drop sharply. Remaining within the channel is perfectly fine. A Slingshot would be more powerful to retest the bottom of the channel.  The explosion to the upside is still not yet unfolding and we need to be concerned about 2018 and the year-end closing. We will issue a special report to deal with that issue.
Part of the basing is concluding this year from political hell. The German elections are the 24th. Keep in mind that AfD will gain seats for the first time. Merkel has NEVER won a majority and she relies upon the FDP to hold power. The more the FDP declines and seats are taken by the AfD, the more chaos will unfold.