Posted Oct 23, 2019 by Martin Armstrong

QUESTION: Hi Martin,
Recently you wrote: "Recently, this has manifested in laws that have attacked foreign investment in real estate, which is not the "hot" money that blew up the world in 1997. "
I live in Vancouver where real estate prices are completely divorced from local wages. If it is not hot overseas money that is driving our real estate market then what is? Your analysis is appreciated as always.
Nick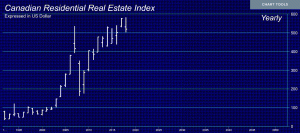 ANSWER: It is foreign money pouring into Vancouver seeking to park in a world that is in economic and political chaos. This has been accelerated by the decline in the C$, which has made the prices appear cheap in other currencies. When you look at our Canadian Real Estate Index in terms of different currencies, you can see that it has been attracting capital. The problem is rather clear. Foreign capital buys the trophies. Others may raise the price of houses because they see the high-end rising, but it is not foreign capital that is bidding for the average home in general. The problem comes when they put in punitive laws that become permanent because of a trend based entirely upon currency.