Posted Jun 24, 2019 by Martin Armstrong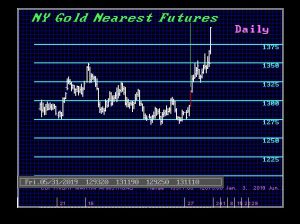 COMMENT: Mr. Armstrong; I want to salute you on creating Socrates. Its forecast on gold was remarkable. When gold was starting to breakout on May 31, Socrates wrote concerning your breakout points:
We did close below the previous session's Intraday Projected Breakout Resistance indicator which was 129370 settling at 129240 gesturing that the market is not in a breakout mode at that precise moment. The current Projected Breakout Resistance for this session was 129740 which we have now closed above suggesting the market is starting to possibly breakout to the upside if it can be maintain in the next trading session. The Projected Breakout Resistance indicator for the next session will be 132023.
The next day closed at 1327 and off it ran. It is amazing how the computer explains these moves in advance.
See you in Orlando
HP
REPLY: This is my objective. To have a computer write the analysis and you know there is no human bias involved one way or another. Just call it by the numbers without all the nonsense. Socrates now covers more than 1,000 instruments around the world every day. There are not enough analysis in the world to write so many reports every day. This is the way to the future. Objective analysis without the human bias.