Posted Nov 24, 2016 by Martin Armstrong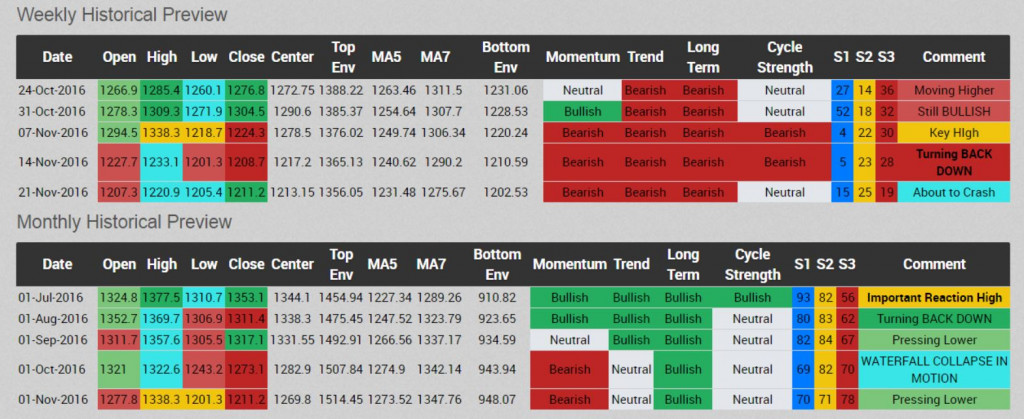 QUESTION: Marty; I find the Global Market Watch really amazing. The talk of India banning gold imports could lead to a crash you have warned about under $1,000. The weekly level in gold came up and said about to crash and even caught the high the week of 07 November. The monthly also caught the high and said it was important back in July. But the monthly level at the close of October said a waterfall in motion. It seems like the GMW can even anticipate fundamentals. I really do not understand how the gold bugs keep attacking you. It appears they enjoy losing.
At the WEC you said the GMW is purely pattern recognition. Your blog on August 24th laid it all out. You said "The Weekly Bearish lies at 1275. That is the number that needs to be elected to hint at a potential sharp decline which could set this market up for a slingshot coming out of a low come January 2017." You have been saying all along that a 3 quarter reaction with gold failing to get above 1362 on a monthly closing pointed to low perhaps by January 2017 at the earliest. How far out can the low form?
Congrats on Trump and gold. Brilliant.
PY
ANSWER: The Global Market Watch is purely pattern recognition. It is a confirming tool to cycles and reversals. It did a good job on gold. Yes, there are two risks to gold. First the ban by India, but second, as the debt crisis explodes, we will see more central bank selling. We will do a report on gold for year-end. Nothing has changed from what we laid out months ago or at the WEC. There are more than 500 markets and shares covered in the Global Market Watch. We will be expanding this to about 3500 soon. That is where you stay on top of things. Waiting for me to write about something when we cover so many aspects of the global economy is not the way to follow markets. This is not a newsletter covering just one or two markets. This is the entire purpose of providing access to the whole world.