Posted Oct 1, 2018 by Martin Armstrong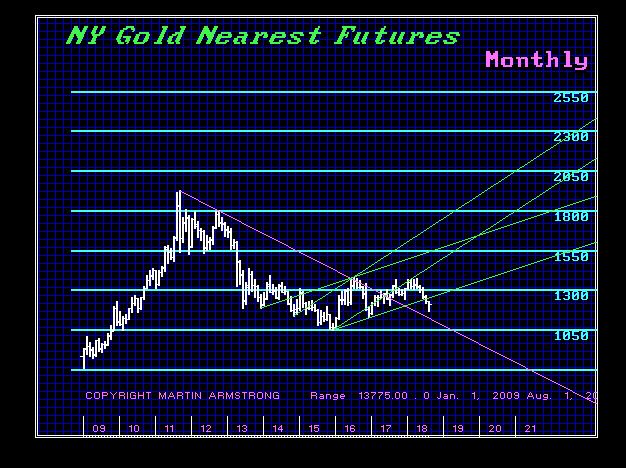 Gold has broken out above the Downtrend Line and is poised to retest that going into the Pi turning point on the Economic Confidence Model target in November. If the market bounces off this technical support and rallies after the Pi turning point, then we should expect gold to rally to test the Yearly Bullish Reversal at 1432 going into 2020.05 which will be the bottom of the ECM. If gold closed back below the Downtrend line on a sustained basis, then we should expect a low in 2020. But the next wave into 2024 should be an inflationary cycle.
Keep in mind that gold is performing better in other currencies as the dollar rises. Given the Monetary Crisis Cycle due in 2021/2022, we should expect the dollar to probably retest support going into the ECM turning point 2020.05 and then bounce and rally into the targets thereafter. Gold may be the shadow image of this pattern but it is not likely to make new lows in dollars before then unless it closes back below the Downtrend Line and elects Weekly Bearish Reversals below.