Posted Feb 28, 2017 by Martin Armstrong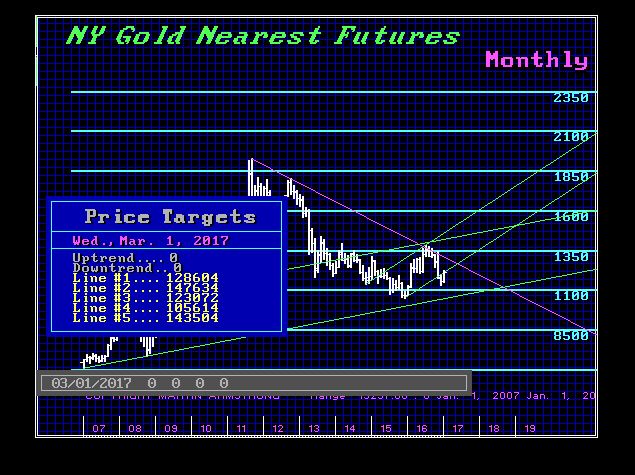 QUESTION: Marty, you said towards the end of the bear market in gold, it will start to align with the stock market. Are we approaching that period since this has been gold and stocks both rising opposite of what the goldbugs have been forecasting?
LWR
ANSWER:  Yes. We are running out of time for the downside in gold. This does not say we are breaking out right now. In fact, the next Benchmark was the February 27th, which we published in the 2016 Gold Report. We would need to close February above 1306 to imply that a breakout is unfolding and a closing below 1255 today will still be bearish. Gold is moving into a tight range where technical resistance stands at 1286 area and support at 1230.
The rise in gold is unfolding despite the rise and expected rise in interest rates. Likewise, gold has been rising with the US share market. This is part of the tangible asset rally as capital begins to drift away from public sector debt. A collapse in confidence means ALL tangible assets rise – not just gold.
However, we are still basing. The rally does not yet appear to be sustainable. A closing today below 1255 after trading above that right on the Benchmark day no less, warns that we are preparing to change trend, but it is just not right now. Let's see the closing for February.
(Clients may see the Private Blog for Today)