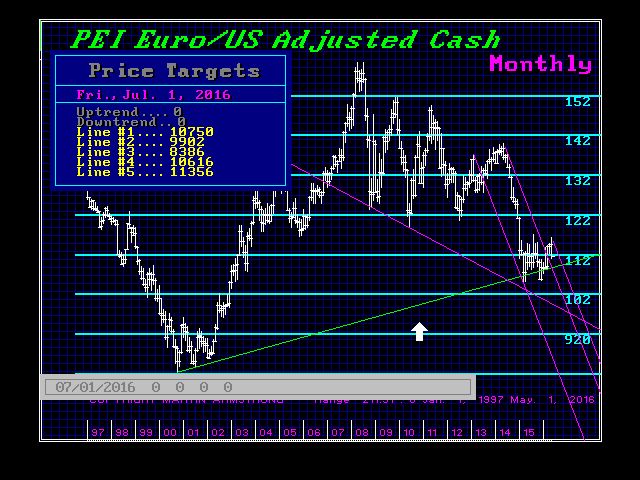 We can see that the green uptrend line has been penetrated previously on this decline. Nevertheless, the euro is unable to rally beyond that 116 level where it elected the Yearly Bearish Reversal at year-end. So people have been impatient and expect instantaneous moves despite the fact we warned the euro had to go back to retest the 116 level since it closed 2015 at 10869. We saw that rally but it was like watching paint dry. The markets have been extending this crisis because we are dealing with a very critical long-term event which may result in economic chaos globally by 2018. The retest of the 116 level stopped at 11616 during the week of May 2, which was 23 weeks from the lowest close the week of November 23, 2015. From this May high, the euro has elected two Weekly Bearish Reversals and now we have 10790 and 10705. You will see this is tends to be supported technically for that uptrend line lies at 10750. There is some additional technical support at the 10600 area. Nonetheless, we also have a Monthly Bearish at 10710. From a technical perspective, a closing below the May low of 11098 will be very bearish. At the time of this posting, the euro is trading at 11104.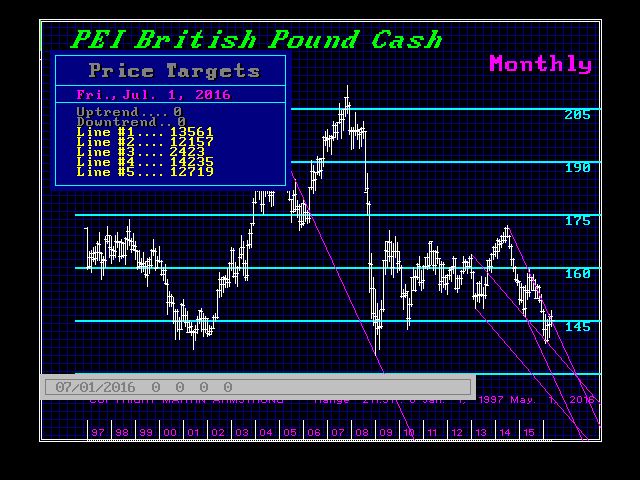 For all the yelling and finger pointing at the Brits, the politicians say look at the pound and that proves the "leave" camp was wrong. Yet, what they fail to grasp here is because Britain has its own currency, the pressure is funneled into the pound whereas the crisis takes shape in Europe by causing the peripheral bonds to decline and rates to rise in the open market. True, we have a Weekly Bearish Reversal at 13228. On the monthly level, all Bullish Reversals are above the 150 level. Our Monthly Bearish to watch is 13660, and with the pound trading at the time of this post at 13431, this remains a key resistance point. The pound did penetrate the 2009 low of 13508. Despite that 2009 collapse, the Monthly Bearish was 13680 back then which held and confirmed the temporary low was in place. This means we have 13660 and 13680 coming into play today. Indeed, the 13680 is also a Quarterly Bearish along with 13970. Therefore, if these are elected today, this means, long-term, we are looking at a retest of the 1985 low which many people though just a few months ago was a totally crazy forecast.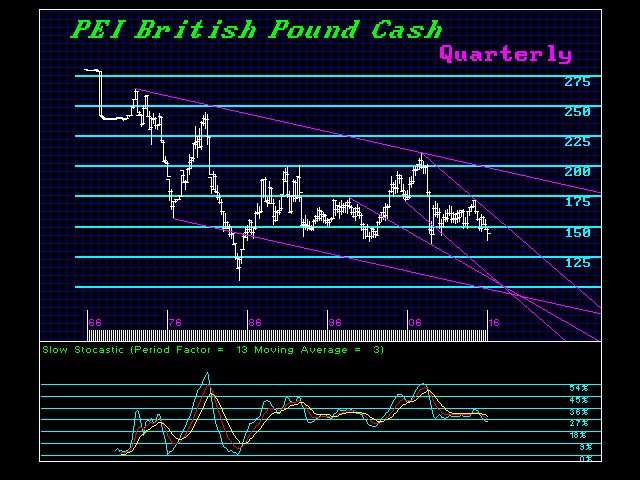 Nevertheless, a pound closing today below 13660 will warn that the long-term is in motion. We should see the retest of the 1985 level near par and slightly break it as soon as 2018. Even the oscillator on the quarterly level has plenty of room for such a decline.