Posted Apr 28, 2017 by Martin Armstrong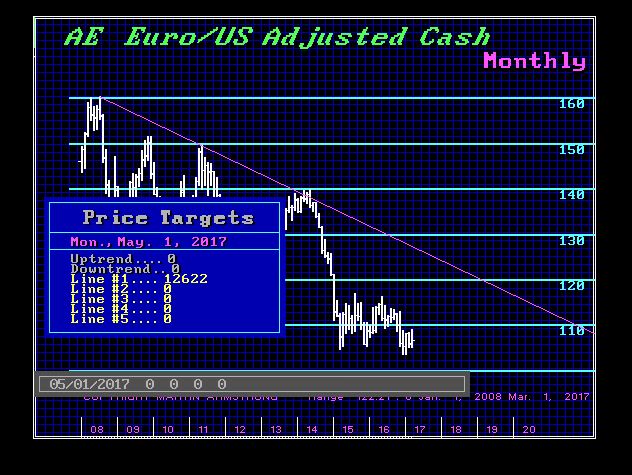 The Euro turning point on our Weekly Models still points to the week of May 8th. As we can see technically, the Euro is well below the Monthly Downtrend Line which stands significantly above the market at 12622. There is no real chance of a reversal in the protracted long-term decline. We really need a Monthly Close above 11060 to signal a sustainable rally ahead and a closing for month-end beneath 10822 will warn that the Euro is still bearish in the broader term. Any rally into the week of May 8th should be sold whereas a decline into the week of May 8th will be followed by a minor relief bounce.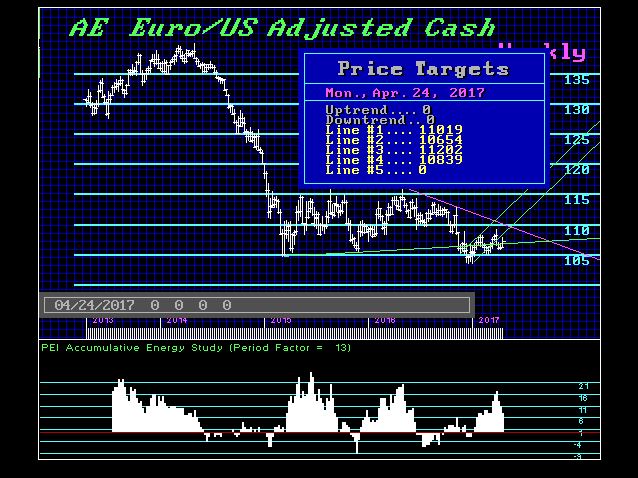 Turning to the weekly level, we can see the the Energy within this market has peak once again and is in danger of moving back into negative territory in the weeks ahead. We need a weekly closing on Friday above 10855 to raise hop of a rally into the week of May 8th. Therefore, this is becoming very narrowly focuses 10855 and 10822.
The Weekly Bearish lies at the 10715 level. Clearly, we do see a choppy trading people starting the week of May 8th. The computer has selected this weekly target months ago which is interesting how this falls into place with the May 7th French election.