Posted Oct 29, 2021 by Martin Armstrong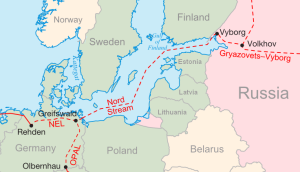 (Nord Stream Pipeline)
European Union leaders are scrambling for solutions to the energy crisis, but their feared friend from the East has reminded them that a solution exists. According to the Associated Press, gas prices in the EU have spiked to 95 euros from about 19 euros per megawatt-hour in the past year. Around 90% of gas is imported to the EU, and Belgian Prime Minister Alexander De Croo said that the only long-term solution is to invest in renewable energy. "And in the long term, there is only one solution — invest more in renewable energy so we are less vulnerable to price fluctuations for fossil fuels," he said.
Hungarian Prime Minister Viktor Orban blamed the Green Deal plan for higher prices, which aims to reduce greenhouse emissions by 55% by 2030, with the goal of becoming carbon neutral by 2050. Some leaders are pointing to the use of nuclear energy, such as France, Bulgaria, Croatia, Czech Republic, Finland, Hungary, Poland, Romania, Slovakia, and Slovenia. However, the 27-nation bloc has not designated nuclear power as a sustainable investment yet.
(Nord Stream 2 Pipeline)
In comes Putin and the controversial Nord Stream 2 pipeline that would carry much-needed gas from Russia to the EU beneath the Baltic Sea. "If the German regulator gives approval tomorrow, supplies of 17.5 billion cubic meters of gas will start the day after tomorrow," Putin said. The Russian president has previously criticized the EU for not signing long-term contracts and failing to work with Russia on energy trade. European Commission President Ursula von der Leyen said that relying on gas from Russia makes the bloc "vulnerable," but it seems that they are already vulnerable and in a worsening situation with no solution in sight. EU energy ministers are set to meet in December, where they are likely to kick around solutions while ignoring the one that is a pipeline away.