Posted Aug 26, 2019 by Martin Armstrong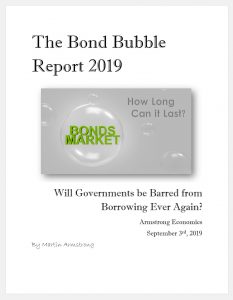 QUESTION: Marty, you have said this is the historic bond bubble of all times with interest rates at a 5,000 year low. Will you elaborate on the bond bubble at the WEC? It seems like this may be the granddaddy of all shorts.
RK
ANSWER: We have an Institutional Report on the Bond Bubble. We have a lot of pension funds and institutional clients where that is the main focus. Nevertheless, we cannot lay out the future of all markets without diving into the Bond Bubble. It is this which will influence the Monetary Crisis Cycle and dictate the trend in share markets as well as commodities.