Blog/Market Talk
Posted Sep 9, 2019 by Martin Armstrong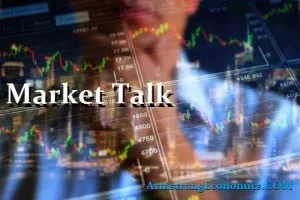 ASIA:
US Treasury Secretary Steven Mnuchin said today that the US and China has a "conceptual" agreement on enforcement concerns, stating positive progress has already been made. He did also mention an area of concern which is Chinese currency practices, and confirmed it will be a topic of focus when the two countries officials meet next month in Washington. "I expect the governor of the People's Bank of China to come over for these talks," Mnuchin said further adding, "So part of the conversations we will be having with them is around currency and currency manipulation."
The Bank of Japan, revised down second quarter GDP estimates as the economy only grew 1.3% on an annualized basis before April and June, compared to an earlier estimate of 1.8%. The main reasons cited was the US and Chinese trade war having an effect in the region.
India's new government register has left 2 million people stateless. Today, India's home affairs minister has said that the government "will not allow a single illegal immigrant to stay."
The major Asian stock markets had a mixed day today:
Shanghai increased 25.14 points or 0.84% to 3,024.74
Kospi increased 10.42 points or 0.52% to 2,019.55
ASX 200 increased 0.70 points or 0.01% to 6,648.00
NIKKEI 225 increased 118.85 points or 0.56% to 21,318.42
Hang Seng decreased 9.36 points or -0.04% to 26,681.40
SENSEX increased 163.68 points or 0.44% to 37,145.45
The major Asian currency markets had a mixed day today:
AUDUSD increased 0.0021 or 0.30% to 0.6867
NZDUSD increased 0.0004 or 0.05% to 0.6429
USDJPY increased 0.1670 or 0.16% to 107.0670
USDCNY increased 0.0087 or 0.12% to 7.1140
Precious Metals:
Gold decreased 4.3 USD/t oz. or -0.29% to 1,500.12
Silver decreased 0.066 USD/t. oz or -0.36%% to 18.0877
Some economic news from last night:
Australia:
Home Loans (MoM) (Jul) increased from -0.9% to 5.0%
New Zealand:
Manufacturing Sales Volume (QoQ) (Q2) decreased from 2.0% to -2.7%
China:
Exports (YoY) (Aug) decreased from 3.3% to -1.0%
Imports (YoY) (Aug) remain the same at -5.6%
Japan:
Bank Lending (YoY) (Aug) decreased from 2.3% to 2.1%
Current Account n.s.a. (Jul) increased from 1.211T to 2.000T
GDP (YoY) (Q2) decreased from 1.8% to 1.3%
GDP (QoQ) (Q2) decreased from 0.4% to 0.3%
GDP Capital Expenditure (QoQ) (Q2) decreased from 1.5% to 0.2%
GDP External Demand (QoQ) (Q2) remain the same at -0.3%
GDP Price Index (YoY) increased from 0.1% to 0.4%
GDP Private Consumption (QoQ) (Q2) remain the same at 0.6%
Some economic news from today:
Singapore:
Foreign Reserves USD (MoM) (Aug) decreased from 272.7B to 272.4B
Japan:
Economy Watchers Current Index (Aug) increased from 41.2 to 42.8
EUROPE/EMEA:
The UK MPs today have forced the government to publish any "no-deal" plans it may have by taking the Grieves motion to a vote and winning by a majority of 9. Today, PM Boris Johnson was in Dublin meeting with Irish PM Leo Varadkar and expressed that a "no-deal" Brexit would be deemed a failure. Mr. Johnson also said that he believed a deal was still possible between now and the end of October. His associate the Foreign secretary Dominic Raab reiterated Mr. Johnson's effort, "This prime minister, this government, wants a deal," Raab said. "And I believe it would be much better than no-deal."
It is expected that the UK parliament will be suspended tonight after holding a vote on whether the UK should have an early election.
The Israeli Prime Minister Netanyahu has accused Iran of having secret nuclear weapons sites. He went on to say that Israeli agents found the site but it was later "wiped out" by Tehran after it was discovered. Iranian officials have already refuted the claims. Meanwhile, Foreign Minister Mohammad Javad Zarif said in a tweet, "The possessor of real nukes cries wolf," in retaliation to Israel.
The major Europe stock markets had a mixed day today:
CAC 40 decreased 15.04 points or -0.27% to 5,588.95
FTSE 100 decreased 46.53 points, or -0.64% to 7,235.81
DAX increased 34.37 points or 0.28% to 12,226.10
The major Europe currency markets had a green day today:
EURUSD increased 0.0029 or 0.27% to 1.1056
GBPUSD increased 0.00724 or 0.59% to 1.23534
USDCHF increased 0.0038 or 0.39% to 0.9910
Some economic news from Europe today:
Swiss:
Unemployment Rate n.s.a. (Aug) remain the same at 2.1%
Unemployment Rate s.a. (Aug) remain the same at 2.3%
Germany:
German Current Account Balance n.s.a (Jul) increased from 20.6B to 22.1B
German Exports (MoM) (Jul) increased from -0.1% to 0.7%
German Imports (MoM) (Jul) decreased from 0.7% to -1.5%
German Trade Balance (Jul) increased from 18.0B to 20.2B
UK:
NIESR GDP Estimate increased from 0.0% to 0.1%
U.K. Construction Output (YoY) (Jul) increased from -0.2% to 0.3%
Construction Output (MoM) (Jul) increased from -0.7% to 0.5%
GDP (QoQ) increased from -0.2% to 0.0%
GDP (MoM) increased from 0.0% to 0.3%
Index of Services increased from 0.1% to 0.2%
Industrial Production (MoM) (Jul) increased from -0.1% to 0.1%
Industrial Production (YoY) (Jul) decreased from -0.6% to -0.9%
Manufacturing Production (MoM) (Jul) increased from -0.2% to 0.3%
Manufacturing Production (YoY) (Jul) increased from -1.4% to -0.6%
Trade Balance (Jul) decreased from -8.92B to -9.14B
Trade Balance Non-EU (Jul) decreased from -1.77B to -1.93B
Euro Zone:
Sentix Investor Confidence (Sep) increased from -13.7 to -11.1
US/AMERICAS:
US Treasury Secretary Steven Mnuchin optimistically announced during an interview with Fox Business Network that he sees China's willingness to meet in the US as "a sign of good faith." Mnuchin insists that the trade debacle has not harmed the US economy and predicts a strong economic finish to the fiscal year. "They're coming here. I take that as a sign of good faith that they want to continue to negotiate and we're prepared to negotiate," Mnuchin said in his full statement. Despite his optimistic tone, he warned that President Trump will not hesitate to implement more tariffs if the two parties cannot reach a deal.
Federal Reserve Chairman Jerome Powell confirmed that the Federal Reserve is not anticipating a recession. "We're not forecasting or expecting a recession," Powell said while speaking at the University of Zurich last week. Still, many analysts are hesitant to find comfort in his words due to numerous factors such as the reappearing inverted yield curve and ongoing trade war. Mnuchin also stated in his interview today that he does not foresee a recession. President Trump reiterated the sentiment today as well, and warned the public to dismiss media reports stating otherwise.
A press conference was held this Monday to announce a bipartisan investigation into Google's antitrust practices. Texas Attorney General Ken Paxton will lead the investigation along with attorneys from 48 other states, Puerto Rico, and the District of Columbia. The Department of Justice is also separately investigating Google's alleged antitrust practices. During the press conference today, the attorneys mentioned concerns over Google monopolizing the marketplace, sharing user data, illegal advertising practices, biased search results, and more. Parent company Alphabet seemed relatively unaffected by the news during today's trading session.
US Market Closings:
Dow advanced 38.05 points or 0.14% to 26,835.51
S&P 500 declined -0.28 of a point or -0.01% to 2,978.43
Nasdaq declined 15.64 points or -0.19% to 8,087.44
Russell 2000 advanced 19.06 points or 1.27% to 1,524.23
Canada Market Closings:
TSX Composite declined 40.24 points or -0.24% to 16,495.09
TSX 60 declined 2.83 points or -0.29% to 985.16
Brazil Market Closing:
Bovespa advanced 245.16 points or 0.24% to 103,180.59
ENERGY:
Crude and WTI rallied today on the comments of new Saudi Arabia's energy minister Prince Abdulaziz bin Salman after he stated that Saudi was still committed to the predecessors policy of keeping the oil supply tight and reducing its oil production by more than the OPEC agreement.
The oil markets had a green day today:
Crude Oil increased 1.4 USD/BBL or 2.48% to 58.0116
Brent increased 1.2 USD/BBL or 1.95% to 62.6775
Natural gas increased 0.088 USD/MMBtu or 3.53% to 2.5883
Gasoline increased 0.013 USD/GAL or 0.83% to 1.5849
Heating oil increased 0.0293 USD/GAL or 1.54% to 1.9313
Top commodity gainers: Natural Gas (3.53%), Crude Oil (2.48%), Wheat(2.17%), and Brent (1.95 %)
Top commodity losers: Oat (-9.14 %), Baltic Dry (-1.62%), Sugar (-1.00%), and Platinum (-0.89%)
The above data was collected around 13:50  EST on Monday.
BONDS:
Japan -0.25%(-0bp), US 2's 1.58% (+5bps), US 10's 1.61%(+6bps), US 30's 2.11%(+8bps), Bunds -0.57% (+7bp), France -0.27% (+7bp), Italy 0.94% (+6bp), Turkey 15.17% (+0bp), Greece 1.61% (-39bp), Portugal 0.26% (+6bp), Spain 0.23% (+6bp) and UK Gilts 0.59% (+8bp).
US 3-Month Bill Auction decreased from 1.930% to 1.920%
US 6-Month Bill Auction remain the same at 1.825%
French 3-Month BTF Auction increased from -0.614% to -0.609%
French 6-Month BTF Auction increased from -0.707% to -0.699%
French 12-Month BTF Auction increased from -0.742% to -0.729%