Blog/Market Talk
Posted Sep 7, 2017 by Martin Armstrong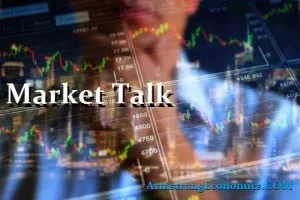 Yes, Asia benefited off of the back of the US markets bouncing but it was far from encouraging. We saw small gains for the Nikkei (+0.2%) and the ASX but declines for the Hang Seng (-0.35%) and Shanghai (-0.6%). Given we have little new headline news concerning North Korea the KOPSI has seen a 1.1% bounce today. Markets were slightly encouraged by an extension to the US debt ceiling but that was to be short-lived as dealers were awaiting the ECB 's Mario Draghi later in the trading day. Volumes remain low and you can see the ongoing concerns when you look at the price of the $/Yen. Last seen trading at 108.4 and especially when in further investigation we see the 10yr JGB flirting with negative yield again.
Europe opened firmer but spent most of the morning waiting for the ECB announcement and press conference before the fun and games really began. As expected the announcement caused very little movement but with the Euro already stronger it accelerated once the conference began. Eventually reaching the highs of 1.2060 during the conference resulted in the days highs and we drifted back to the figure towards the close. At best the currency appreciated over 1% but made fresh highs against all other cores. Mario Draghi said that further clarity will come at the October meeting concerning policy and instruments. The anxiously awaited QE comment came late but appears the market will have to wait until 2018 before any further reduction in size.
US saw the DXY under more pressure from the open but not surprising considering how the treasury market reacted to Draghi's comments. The reaction to these moves were weaker bank and insurance stocks that weighed on confidence for the rest of the day. The stronger initial claims report was largely ignored as 10yr notes fell towards 2%. The front end has mostly priced out a December move but even more so as stocks continue their retreat. The final thirty minutes of trade was similar to Wednesday's with the DOW trending lower as sell orders push sentiment into the close. The NASDAQ did manage a positive close but was the larger Russell that proved to be the weakest of the core closing -0.25%.
2's closed 1.27% (-3bp), 10's at 2.05% (-5bp), 30's 2.66% (-6bp), Bunds 0.31% (-3bp) closes the US/Germany spread at +174bp (-2bp). France 0.61% (-5bp), Italy 1.91% (-11bp), Greece 5.38% (-1bp), Turkey 10.39% (-8bp), Portugal 2.70% (-10bp) and Gilts 0.97% (-3bp).