Blog/Market Talk
Posted Sep 7, 2018 by Martin Armstrong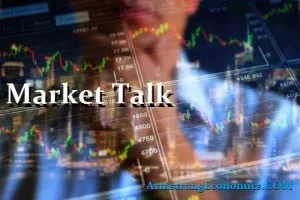 Another negative day for Asian stocks as concerns over US/China trade wars and emerging market jitters continue. The timeline pasted for additional US sanctions which caused a small up-tic in prices ahead of the US numbers and the weekend. The Hang Seng managed an almost unchanged close, whilst Shanghai recovered much of the mornings levels to close up +0.4%. Tech stocks were a major concern for the Nikkei as it recorded another near 1% decline. The Yen is still playing around the 111 level and even this evening is searching direction. Even though the SENSEX lost ground initially, it did mange to recover but at the cost of the currency. The INR is now trading with a 72 handle suffering another 0.25% loss today.
Core Europe did trade lower, but settled a smidgeon better following higher than expected growth numbers. Peripheral markets and I include the UK's FTSE in this batch, were all down around -0.75%, as risk is taken off the table. Tech and real estate were the areas that were hit, closely followed by financials and exporters. Italy's FTSE MIB and Spain's IBEX caught much of the attention as talk of money moving away from these areas raised concerns. BREXIT heard both positive and negative news, from GBP initially rallying above $1.30 on talk that Michel Barnier softened his approach to the Irish boarder. However, afternoon trading saw the USD recover as the NFP printer larger than expected.
US employment data (+201k and 2.9%) was better than market forecasts and lines the FED for a move next meeting. Obviously, this the Treasury market and pushes US 10's back towards the 3% handle. the parallel shift between 2/10's therefore saw 2's hit their highest yield in 10 years. Trading over 2.7% has now put the spread between USA and German Bunds at 327bp. The long end managed to hold in slightly better, but still rallied 4bp to 3.10%. This move continues to be misinterpreted by the stock market. the additional $265bn tariff headline hit stocks early on, but were absorbed by the end of trading. DXY makes steady ground again and ends the week with a 4.5% increase on the year.
Japan 0.11%, US 2's closed 2.70%, US 10's closed 2.94% (+6bp), US 30's 3.11% (+5bp), Bunds 0.38% (+3bp), France 0.72% (+3bp), Italy 3.03% (-2bp), Turkey 18.71% (-53bp), Greece 4.24% (-12bp), Portugal 1.88% (+2bp), Spain 1.46% (+2bp) and UK Gilts 1.46% (+5bp).