Blog/Market Talk
Posted Sep 6, 2017 by Martin Armstrong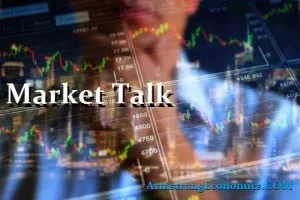 A lot of the talk in Asia was surrounding concerns over the continued and unsurprising decline in the KOPSI. Today it fell again (-0.3%) with industrials and core exporters leading the decline making this the fifth day sellers have taken the lead role. The Nikkei lost for another day, but this time only a small 0.15%. More reflective of global markets is the Hang Seng which returned 0.5% as the move continues into safe-haven assets. Having seen the US markets decline 1% without clarity and given absolute market levels, we will probably need a period of stability ahead of confidence returning to markets. Australia's ASX also closed small down following poorer than expected GDP (1,8% compared to the 1.9% forecast). Interesting that gold has only seen small movements in these uncertain times. There is talk that the younger generation are moving away from this as a store of wealth and that sounds to be the case in India (normally a home for physical holdings) but could be explained by the recent customs changes.
European markets closed mixed with Thursdays ECB meeting very a focus point. The DAX and CAC managed gains, whilst the FTSE and IBEX both lower. Markets were nervous for the morning session, more waiting for the US opening rather than anything else. Gold and the Japanese yen saw a little liquidation on the back of no new headlines, but that said – market volumes remain low. European bonds were extremely slow but then that is probably not surprising given ECB is imminent. The US dollar continues to suffer, mostly in favour of emerging market currencies.
Core US did trade better for the majority of the day better from yesterdays decline but was not really that convincing. The concerns arise because in the final 30minutes we saw most of the days gains lost on heavy selling. We heard today that the debt ceiling will be extended for another three months, one reason being the expense of the recent hurricane. We are waiting for possible comments from President Trump on tax reforms, but looks to be after the market closes.
2's closed 1.30% (+1bp), 10's 2.10% (+3bp), 30's 2.72% (+3bp), Bunds 0.34% (+1bp) closing the spread at +176bp (+2bp). France 0.66% (+2bp), Italy 2.02% (+3bp), Greece 5.39% (u/c), Turkey 10.47% (+9bp), Portugal 2.80% (+2bp) and UK Gilts 1% (u/c).