Blog/Market Talk
Posted Sep 6, 2019 by Martin Armstrong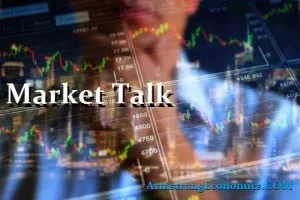 ASIA:
China took more action to boost its economy by reducing the amount of cash banks have in reserve. The PBC said it would reduce the reserve requirement ratio for most financial institutions by 50 basis points. The first in the over eight months. The step is expected to release nearly a trillion yuan into the economy ($130 billion US) over the next three months.
The Chinese government has joined that of Israel with its plans to "curb and regulate" the use of facial recognition technology and other apps in schools. The move comes about after scrutiny of its current system, where the facial recognition system has been unfairly targeting certain minorities.
Hong Kong protests are still ongoing; the US rating agency Fitch downgraded Hong Kong over the recent destabilization caused by the protests from AA+ to AA.
Taiwan has warned the Solomon Islands, who are in the process of switching diplomatic ties to China, that changing allegiance could put the country at risk of falling into large amounts of debt.
Japan has rejected South Korea's offer to extend a military intelligence-sharing pact scheduled to expire in November in exchange for Japan easing tightened trade controls, government sources told media outlets today.
The major Asian stock markets had a green day today:
Shanghai increased 13.74 points or 0.46% to 2,999.60
Kospi increased 4.38 points or 0.22% to 2009.13
ASX 200 increased 34.10 points or 0.52% to 6,647.30
NIKKEI 225 increased 113.63 points or 0.54% to 21,199.57
Hang Seng increased 175.23 points or 0.66% to 26,690.76
SENSEX increased 337.35 points or 0.92% to 36,981.77
The major Asian currency markets had a mixed day today:
AUDUSD increased 0.0034 or 0.50% to 0.6847
NZDUSD increased 0.0066 or 1.03% to 0.6439
USDJPY decreased 0.0340 or 0.03% to 106.8860
USDCNY decreased 0.0385 or 0.54% to 7.0991
Precious Metals:
Gold decreased 11.65 USD/t oz. or -0.77% to 1,509.91
Silver decreased 0.5465 USD/t. oz or -2.93%% to 18.0994
Some economic news from last night:
Australia:
AIG Construction Index (Aug) increased from 39.1 to 44.6
Japan:
Household Spending (MoM) (Jul) increased from -2.8% to -0.9%
Household Spending (YoY) (Jul) decreased from 2.7% to 0.8%
Overall wage income of employees (Jul) decreased from 0.4% to -0.3%
Overtime Pay (YoY) (Jul) increased from -0.20% to 0.60%
Foreign Reserves (USD) (Aug) increased from 1,316.5B to 1,331.6B
Indonesia:
FX Reserves (USD) (Aug) increased from 125.90B to 126.50B
Some economic news from today:
India:
FX Reserves, USD decreased from 429.05B to 428.60B
HongKong:
Foreign Reserves (USD) (Aug) decreased from 448.40B to 432.80B
Japan:
Coincident Indicator (MoM) (Jul) increased from -2.9% to 0.3%
Leading Index (MoM) (Jul) increased from -1.4% to 0.0%
Leading Index increased from 93.3 to 93.6
EUROPE/EMEA:
Thousands of people across the UK have protested against Prime Minister Boris Johnson's decision to suspend Parliament just weeks before the deadline for the UK to leave the European Union. Boris Johnson remains optimistic that an October Brexit date is possible. Many MP's banded together today, spearheaded by a letter from Labour Leader Corbyn, telling PM Boris Johnson that his actions to suspend government was undemocratic. Meanwhile, later on in the day a bill was passed designed to stop Boris Johnson taking the UK out of the EU on 31 October without a Brexit agreement. This bill cleared the House of Lords, and it is expected to be written in law on Monday when it is due to get royal assent.
Defense Secretary Mark Esper, in his first major speech on Friday, called for a greater European focus on tackling what he called growing security and economic threats from China and Russia. He also touched upon Iran and said that the US was inching towards a place where talks could be held. "It seems in some ways that Iran is inching toward that place where we could have talks and hopefully it'll play out that way," he said. Iran, meanwhile, is expected to begin work on advance centrifuges which will speed up uranium enrichment as the EU failed to step in with aid from the US sanctions.
Turkish President Recep Tayyip Erdogan says Turkey will "open the gates" for migrants to Europe if international support for a refugee safe zone in northern Syria fails to happen.
The major Europe stock markets had a green day today:
CAC 40 increased 10.63 points or 0.19% to 5,603.99
FTSE 100 increased 11.17 points, or 0.15% to 7,282.34
DAX increased 64.95 points or 0.54% to 12,191.73
The major Europe currency markets had a mixed day today:
EURUSD decreased 0.0004 or -0.04% to 1.1029
GBPUSD decreased 0.00371 or -0.30% to 1.22919
USDCHF increased 0.0016 or 0.16% to 0.9874
Some economic news from Europe today:
Euro Zone:
Employment Change (QoQ) (Q2) decreased from 0.4% to 0.2%
Employment Change (YoY) (Q2) decreased from 1.4% to 1.2%
Employment Overall (Q2) increased from 159,930.0K to 160,006.4K
GDP (QoQ) (Q2) decreased from 0.4% to 0.2%
GDP (YoY) (Q2) decreased from 1.3% to 1.2%
UK:
Inflation Expectations increased from 3.1% to 3.3%
Halifax House Price Index (YoY) (Aug) increased from 1.5% to 1.8%
Halifax House Price Index (MoM) (Aug) decreased from 0.4% to 0.3%
Italy:
Italian Retail Sales (YoY) (Jul) increased from 1.3% to 2.6%
Italian Retail Sales (MoM) (Jul) decreased from 1.9% to -0.5%
France:
French Current Account (Jul) increased from -1.10B to 0.20B
French Exports (Jul) increased from 41.8B to 42.2B
French Imports (Jul) decreased from 47.0B to 46.9B
French Reserve Assets Total (Aug) increased from 173,491.0M to 181,918.0M
French Trade Balance (Jul) increased from -5.3B to -4.6B
Germany:
German Industrial Production (MoM) (Jul) increased from -1.1% to -0.6%
Norway:
Manufacturing Production (MoM) (Jul) increased from -0.9% to 1.0%
US/AMERICAS:
The Bureau of Labor and Statistics released an underwhelming US jobs report for August. Nonfarm payroll increased by 130,000, 30,000 less than analysts had expected. The unemployment rate remained consistent at 3.7%. Hourly earnings increased by 0.4% MoM (0.3% expected) and 3.2% YoY (3% expected). Data from July was revised to reflect 159,000 new positions opposed to the originally reported 164,000 positions.
CNBC reported that last month's hiring of temporary workers for the 2020 Census helped boost figures. The government employed 25,000 workers this August to prepare for the upcoming survey.
Canada's jobs report exceeded expectations. The Canadian economy grew by 81,100 jobs last month, according to the data released by Statistics Canada. Analysts had expected the number of jobs to increase by a mere 15,000 last month. Wages grew 3.8% YoY and unemployment remained steady at 5.7%.
H&M, the second largest clothing retailer, announced that they will no longer purchase leather from Brazil. According to a New York Times article, the retailer implemented the ban due to the ongoing Amazon wildfires that were sparked for deforestation to provide land for cattle. YF Corporation, who owns North Face and Timberland, also announced plans to discontinue purchasing Brazilian leather.
US Market Closings:
Dow advanced 69.31 points or 0.26% to 26,797.46
S&P 500 advanced 2.71 points or 0.09% to 2,978.71
Nasdaq declined 13.75 points or -0.17% to 8,103.07
Russell 2000 declined 5.60 points or -0.37% to 1,505.15
Canada Market Closings:
TSX Composite declined 39.48 points or -0.24% to 16,535.33
TSX 60 declined 2.36 points or -0.24% to 987.99
Brazil Market Closing:
Bovespa advanced 692.43 points or 0.68% to 102,935.43
ENERGY:
Prices remained steady today as U.S. crude, along with gasoline and distillate inventories fell last week. Crude stocks dropped 4.8 million barrels, which was more than the 2.5 million barrel draw analysts had expected, the EIA report stated.
The oil markets had a green day today:
Crude Oil increased 0.25 USD/BBL or 0.44% to 56.5476
Brent increased 0.55 USD/BBL or 0.90% to 61.3839
Natural gas increased 0.052 USD/MMBtu or 2.14% to 2.4825
Gasoline increased 0.0275 USD/GAL or 1.78% to 1.5741
Heating oil increased 0.0093 USD/GAL or 0.49% to 1.9014
Top commodity gainers: Natural Gas (2.14%), Coffee (1.79%), Gasoline(1.77%), and Brent (0.89 %)
Top commodity losers: Oat (-9.00 %), Live Cattle (-2.99%), Lean Hogs (-4.39%), and Silver (-2.93%)
The above data was collected around 15:58   EST on Friday.
BONDS:
Japan -0.24%(+2bp), US 2's 1.53% (-1bps), US 10's 1.55%(-1bps), US 30's 2.02%(-3bps), Bunds -0.64% (-4bp), France -0.34% (-5bp), Italy 0.88% (-3bp), Turkey 15.17% (+22bp), Greece 1.59% (-1bp), Portugal 0.20% (-6bp), Spain 0.18% (-8bp) and UK Gilts 0.50% (-10bp).