Blog/Market Talk
Posted Sep 6, 2018 by Martin Armstrong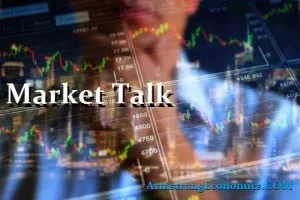 Another weak day across the board, starting in Asia and spreading west. There are ongoing concerns about emerging markets and the additional leverage being used almost everywhere. Much of this is being extended through the tech sector and that is what hurt the Hang Seng today. Closing down 1% it has also had a negative influence on the core Shanghai index which fell 0.5%, much of the losses occurring in afternoon trading. Asian currencies were also cause for concern as all continue to trade heavy. The closely watched INR today closed at 72, a psychologically important level for many structured deals between 72 and the 74 level. The SENSEX did rally 0.5% in response to the currency weakness, but this will not attract international money if it plays as a zero sum game. The Yen strengthened as the Nikkei (-0.4%) lost ground. Now trading back with a 110 handle, the flight to quality returns for the moment.
Europe watched Greek debt recover, due mostly to the big buyer demand, whilst Italian BTP's lost the weeks gains. Italian government spending plans will be presented over the next few weeks and the market talk is these could be larger than initially proposed! Talk is the budget proposal may very well be larger than the 3% of GDP that the EU permits, so we could very well see more attention being paid by the ratings agencies in the near future. Some afternoon strength in the core DAX, CAC and FTSE were rejected into the close after US markets lost early gains. BREXIT remains a key worry for many players and talk that a 'no deal' is being considered is starting to influence core stocks and bonds.
For the third day we see the NADAQ worries spread across the indices. Tech has been the star performer for a while, but now that looks to be rebalancing here and also across the emerging market sphere. The DOW looks to be making headway, as large capital flow prepares to move after a long time sitting on the side-lines. Even though we are seeing the some rebound in certain EM markets, the longer term trend remains bearish as if looks the big moves are yet to be seen. Friday we see the nonfarm payrolls and all will be watching for clues of the FED's next move. Key number is called around 190k.
Japan 0.10%, US 2's closed 2.64% (-1bp), US 10's closed 2.88% (-2bp), US 30's 3.06% (+1bp), Bunds 0.35% (-3bp), France 0.69% (-2bp), Italy 3.05% (+13bp), Turkey 19.24% (-53bp), Greece 4.36% (-11bp), Portugal 1.86% (u/c), Spain 1.44% (u/c) and UK Gilts 1.41% (-4bp).